Children's Resources
for Resilience and Well-being
Recorded Audio and Video Links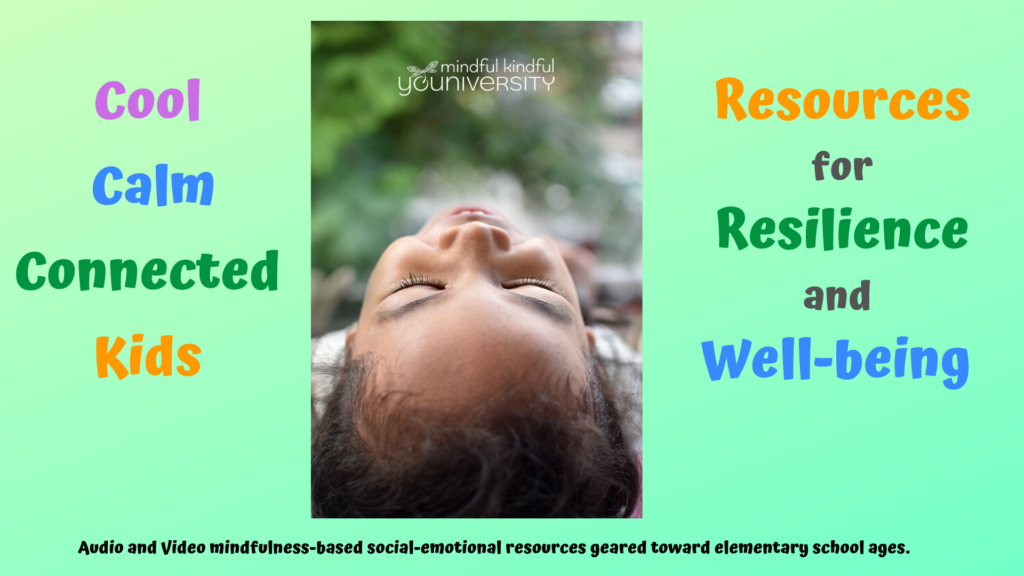 Most of these are geared towards elementary school-aged children.
KEEP CHECKING BACK ~ I'm just getting started creating and recording these online resources during the COVID-19 Shelter at Home period to support you and your children until we can be together again. Feel free to make requests! Let's stay connected! These resources are a peek into what I offer through Mindful Kindful YOUniversity's regular school programs, community classes, and personal coaching services. The in-person shared experience is such an integral part of teaching mindfulness but I hope this will be of some help for now. If a parent can share the experience of listening to (or watching) the recording with the child and follow up with a conversation afterwards, it will be of much more value than just giving it to the child for something to do. Right now we are all having feelings that are amplified, and our nervous system is responding as though there were the threat of a tiger coming in the room. Safety is experienced in warm and connected relationships. May you and yours be healthy and resilient through this period in history. 

~ A lesson on The Zones + a Mindfulness Breathing practice for grounding ~
~ A lesson on the emotion "Worry" + a grounding practice "Look, Listen, Feel" and Guided Visualization "Safe Place" ~
Rather than pushing emotions away, we can help children to understand and relate to emotions skillfully. This video addresses the emotion "worry". Adults have a critical role when helping children learn about emotions – they are the "co-captains" or "co-regulators" for helping children with their still-developing brains. That's why children don't "leave the nest" until their late teens or 20's! Have you ever been told "don't worry" and you magically stopped worrying? It's not effective, right? And yet how many times do we say this, or something similar, to children? There are more effective, and proven ways, to help change our relationship to emotions which will be much more effective. In this video for you and your child (or classroom) you will learn (1) about worries, including the neuroscience of it, (2) and some ways to confront your emotions, and (3) and then practice grounding with "Look, Listen, Feel" with a bonus guided journey to a "Safe Place". Fred Rogers said "Feelings are mentionable and manageable. When we can talk about our feelings, they become less overwhelming, less upsetting, and less scary. The people we trust with that important talk can help us know that we are not alone. There's no 'should' or 'should not' when it comes to having feelings. They're part of who we are and their origins are beyond our control. When we can believe that, we may find it easier to make constructive choices about what to do with those feelings." Book recommendation to read with children: "Hey Warrior ~ A book for kids about Anxiety" by Karen Young. 
~ A lesson on the emotion "Anger" + the practice of "taking care of anger" through movement ~
~ Heartfulness for the Blues ~
I wanted to acknowledge the "blues" that people may be feeling from during the pandemic without mentioning the COVID-19 specifically because this lesson and practice applies anytime we are feeling sad, sick, tired, or lonely.  So many people are struggling with loneliness during our "social isolation". The heartfulness practice helps people to feel connected and provides a sense of agency when trying to so something for others when we don't know what else to do other than send kind wishes for well-being. The science has revealed the benefits: increases positive emotions, decreases negative emotions and depression, increases compassion for others and increases self-compassion, and more.

> "Charlie's Thinking Cheese" Chapter by Chapter Read-Aloud Series, author Mark Juarez // Audio read-aloud narrated by Dee DiGioia for all ages!!!
This is an inspirational story to stimulate young minds and warm old hearts — children (maybe 3rd or 4th grade up), teens, adults will appreciate this! The story is a reminder to see the possible in the impossible, believe in the unbelievable, and to look for opportunity in every disappointment. It's an entertaining read for all ages, Charlie's story reminds us all that even the smallest acts of kindness can make a big and lasting impact. Charlie's story transcends time, bridging cultures and generations. With the help of his thinking cheese, Charlie finds new and imaginative ways to turn disappointments into opportunities. He demonstrates ways to help friends and neighbors and, by doing so, brings a community together. Its goal is to spark a movement of kindness across the globe and every reader can be a part of the change. The theme throughout is "All is possible."
Note from Dee: I can't even believe how serendipitous this story is for what's going on with "Shelter in Place" for COVID-19! When I was a little girl, one of my fondest memories was when we went camping and the grownups would tell stories around the campfire. I loved hearing their stories and I loved using my imagination of what things looked like. Years ago I used to read chapters from this book to students who chose to come to my room during recess time for "Peace Project". They were always so excited to come back each day to hear what happens next. I hope you enjoy the story, too. I encourage families to listen to this together and have a follow-up discussion after each chapter. Perhaps this will inspire your family to start a project together… Let me know! 
16 Chapters in all (use Soundcloud link)
Chapter 1,
Broken Dreams of Grandeur //
Chapter 2,
Morning Memories //
Chapter 3,
The Smell of Something Sinister //
Chapter 4,
Seeds of Inspiration //
Chapter 5,
A Secret Gardener //
Chapter 6,
Opportunities Everywhere //
Chapter 7,
Part of the Family //
Chapter 8,
A Mysterious Journal //
Chapter 9,
Worst Day Ever  //
Chapter 10,
Charlie, Where Are You? //
Chapter 11,
An Ambitious Idea //
Chapter 12,
The Garden of Life //
Chapter 13,
Charlie's New Friends //
Chapter 14,
Mitch Ventures Out //
Chapter 15,
All is Possibl
e //
Chapter 16,
A New Plan for a New Life

>  Finger Taps, Breathing is my Superpower (You Tube ~ by Dee DiGioia)
> Magic Breathing Ball, Breathing is my Superpower (You Tube ~ by Dee DiGioia)
> Counting Breaths (Audio by Dee DiGioia ~ 2 min)
> Heartfulness Wishes (Audio by Dee DiGioia ~ 4 min)
More to come!

> Listening to Sounds All Around (Audio by Dee DiGioia ~ 6 min)
>  Eye of the Hurricane (Audio by Dee DiGioia ~ 8 min)
> Heartfulness Wishes (Audio by Dee DiGioia  ~ 4 min)
* More to come!

> Mindfulness, Peace Like a River (You Tube ~ by Dee DiGioia)
> PS7 presents Don't Flip Yo' Lid (You Tube ~ by Dee DiGioia)
> AND VIDEO: "Which Team Will You Choose?"  (written, directed, produced by Dee DiGioia)
More to come!
Please consider supporting local small business solopreneurs, like myself, if you are in a position to do so. There are many of us small business entrepreneurs in your community that will be struggling financially due to the current national pandemic. Every one of my programs and services have had to be cancelled (except for personal coaching which is now online).  I will be pouring my heart, time, and love into our new online offerings to continue sharing my love of mindfulness and movement because I know how essential it is, now more than ever.
Dee DiGioia (di JOY uh)  805-270-5523 

Mindful Kindful YOUniversity offers custom programs intentionally designed to provide a rich experience for participants through learning and engaging in practices of trauma-informed mindfulness and movement grounded in science and backed by research to support mental and physical health and well-being in our local communities across San Luis Obispo County, including community programs, school programs, personal coaching, mini-retreats, and more.
(More about Dee HERE)
I invite you to consider how we can collaborate and work together to bring the vision of mental health, well-being, and peace to our communities.