Meet Dee DiGioia
Founder of Mindful Kindful YOUniversity
Sound Healing Practitioner / Mindfulness Guide / Life Skills Coach for Well-being
Hi! I am Dee DiGioia (di JOY uh). I am a wholistic educator who finds great joy in helping others discover and understand the inner workings of the mind and body, while cultivating the life-skills and positive habits for emotional, physical, and social well-being. The practice of mindfulness is integrated into all aspects of my life, both personally and professionally, and I am guiding and coaching others to do the same.
 In 2017 I was inspired to launch Mindful Kindful YOUniversity (MK YOU) to share mindfulness and well-being programs to make a positive impact on the lives of children, and adults, in our schools and communities while addressing the challenges youth (and adults) face in school and in life, which interfere with learning, relationships, and mental health & well-being. As life continues to re-shape and transform, so do my programs. In 2022, I needed to return to working full time (in the traditional sense) which meant letting go of my in-school programs and putting the development  of my virtual "Mindful Explorers" youth program on pause.  In so doing, I was reminded of the challenges of working in the public education system and and my focus has turned to offering Sound Bathing, Drum Circles, and Retreats for self-care, relaxation, and healing for adults.
The Journey
To understand how Mindful Kindful YOUniversity came to life, is to look at what came before it. My life and its experiences are the very fabric of the program I am deeply committed to. As an educator in schools, the skills I am passionate about sharing with youth are the ones I see are missing from our school curriculums and the missing piece (and peace) in educating the whole child. Personally, I wish I had learned these skills as a young child who struggled with severe anxiety and complex childhood trauma.
As an educator in schools, I understand, firsthand, the challenges of stress and burnout working in public education and know far too many fellow educators who feel the same. I am equally passionate about sharing these skills with educators, as well as with parents, to support them in their challenging roles. Personally, these skills and practices would have been a lifeline for me as an educator, and as a parent, for navigating depression, preventing burnout, and dealing with the stresses in life.
Through my work in supporting children with social, emotional, and behavioral challenges, I eventually discovered how positively impactful and transformative mindfulness and emotional intelligence life skills were for my students, as well as for myself. For a period of time I left behind the stresses and challenges of working full-time in special education in the public school setting to launch Mindful Kindful YOUniversity in order to offer programs for youth, educators, parents, or anyone seeking the essential life skills for well-being.  I had to recently return back to work in public education due to life circumstances but continue to offer services geared towards adults in my community.  >>>  READ  MORE  <<<
Credentials: Certifications, Training, Experience
I am a passionate life-long learner of subjects related to the inner workings of the human mind and body including mindfulness, psychology, mental health, and trauma. In the last decade I have received, and continue to pursue additional training in a variety of programs. I am grateful to have the experiences, resources, and training to share the wisdom, science, and evidence-based skills and practices of areas iincluding social-emotional learning, mindfulness, movement, and sound healing, which have proven over and over to lead to greater resilience, more joy, and peace in life, or what I like to summarize as more Mindful, Kindful, Peaceful. >>>  SEE MORE  <<<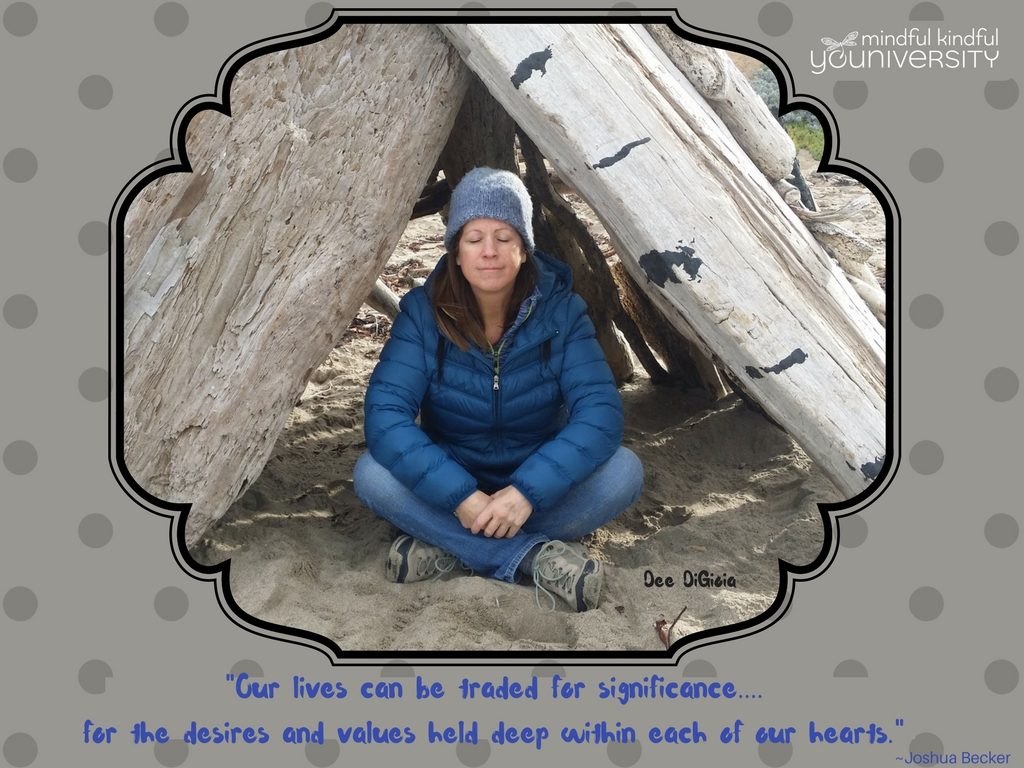 Mindful ~ Kindful ~ Peaceful