~ Certifications, Training, Experience ~

I am a passionate life-long learner of subjects related to the inner workings of the human mind and body including mindfulness, psychology, mental health, and trauma. In the last decade I have received, and continue to pursue additional training in a variety of programs.
I am grateful to have the experiences, resources, and training
to share the wisdom, science, and
evidence-based skills and practices
of mindfulness, movement, social emotional learning, and more, which
has proven over and over to lead to greater resilience, more joy, and peace in life, or what I like to summarize as more Mindful, Kindful, Peaceful. ~ Dee DiGioia
~ Mindfulness and Meditation ~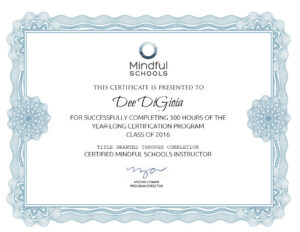 Certified Mindfulness Educator, Mindful Schools 2016
Certified MBSR-Teens Instructor, Stressed Teens ~ Gina Biegel
Certified Meditation Teacher, Emerson Institute
Niroga Dynamic Mindfulness for Stress Resilience, Dynamic Mindfulness Foundation
~ Yoga and Movement ~
Certified Restorative Yoga Teacher, Brooke West 2020
Subtle Yoga, currently in training
Certified Youth Yoga Instructor, Yoga Calm
Certified Autism Movement Therapist, Joanne Laura
~ Psychology and Life Coaching ~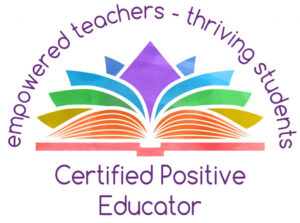 Positive Education Certification, The Positive Psychology Flourishing Center 2021
Certified Cognitive Behavior Therapy (CBT) Practitioner, The Academy of Modern Applied  Psychology
Certified Mindfulness Based Cognitive Therapy Practitioner, 
The Priority Academy and Practitioner Accreditation Membership from Complimentary Therapists Accredited Association (CTAA)
Certified Spiritual Life Coach, Emerson Institute
Certified Quantum Process Practitioner, Emerson Institute
Certified Neuro Linguistic Programming Practitioner, Emerson Institute
Certified Hypnotherapist, Emerson Institute
~ Trauma and Mental Health ~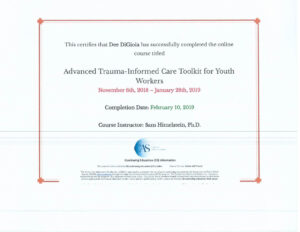 Trauma-Informed Care for Professionals Working with Youth, Center for Adolescent Studies
Advanced Trauma-Informed Care Toolkit for Youth Workers, Center for Adolescent Studies  
Smart Body, Smart Mind, Irene Lyon 
Mental Health First Aid, The National Council via San Luis Obispo County Behavioral Health
Darkness to Light ~ Stewards of Children to prevent Child Sexual Abuse 
Kidpower to empower and protect children to from bullying, harassment, sexual abuse, abduction, assault, and other violence
~ Nature Connectedness ~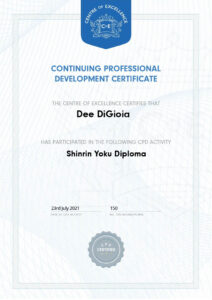 Shinrin Yoku Diploma (Forest Bathing), Centre for Excellence 2021
Nature Connectedness: A New Relationship with Nature, University of Derby
~ Misc ~ 
Therapeutic Art Life Coach, Transformation Academy
Certified Massage Therapist (CMT), South Bay Massage College, Manhattan Beach, CA
Positive Behavior Intervention Supports (PBIS)
Crisis Intervention (CPI)
And more! I continue to read books, attend workshops, conferences, and retreats to continue my education. I consider this learning a life-long pursuit both personally and professionally.
EXPERIENCES:
I currently am self-employed and full-time as a Mindfulness Educator ~ Mindful Kindful YOUniversity. I also work part-time as a speech-language therapist at Bellevue Santa Fe Charter School in San Luis Obispo, CA.
Mindful Kindful YOUniversity, 2017- present

Mindfulness Educator & Life Skills Coach
School programs

Sinsheimer Elementary School (SLCUSD), San Luis Obispo, CA
Grover Heights Elementary School (LMUSD), Grover Beach, CA
Shell Beach Elementary School (LMUSD), Shell Beach, CA
and more

virtual Mindful Explorers program
community programs
and more

Caring and Courageous Kids, 2009-2017 – now merged with Mindful Kindful YOUniversity

Bullying Intervention Educator (school programs including Mammoth Elementary Peace Project; Folsom Middle School Cougar Compassion Circles, St HOPE Circles)
Public Speaker (3 National Conferences)

Author, Director, Producer of children's movie, Which Team Will You Choose?  
Song writer, Singer, Producer of children's peace song, Peace for You and Me
Autism Movement Therapist, 2009-present
Credentialed Speech-Language Therapist, 1981, 2005 to present (currently working part-time at Bellevue Santa Fe Charter School, San Luis Obispo, CA)
Certified Massage Therapist (CMT), 2003-2004
Private Preschool Director, 1997-2003
Home Preschool Provider, 1989-1997 while raising my sons
Credentialed Teacher of Deaf & Hard of Hearing, 1982-1986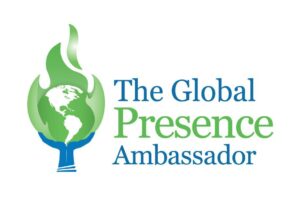 Global Presence Ambassador: an honorary designation awarded passionate Life Skills pioneers around the world. Ambassadors come from a broad array of backgrounds and professions, reflecting the diversity of Life Skills employed in the twenty-first century and a glimpse of future vibrancy.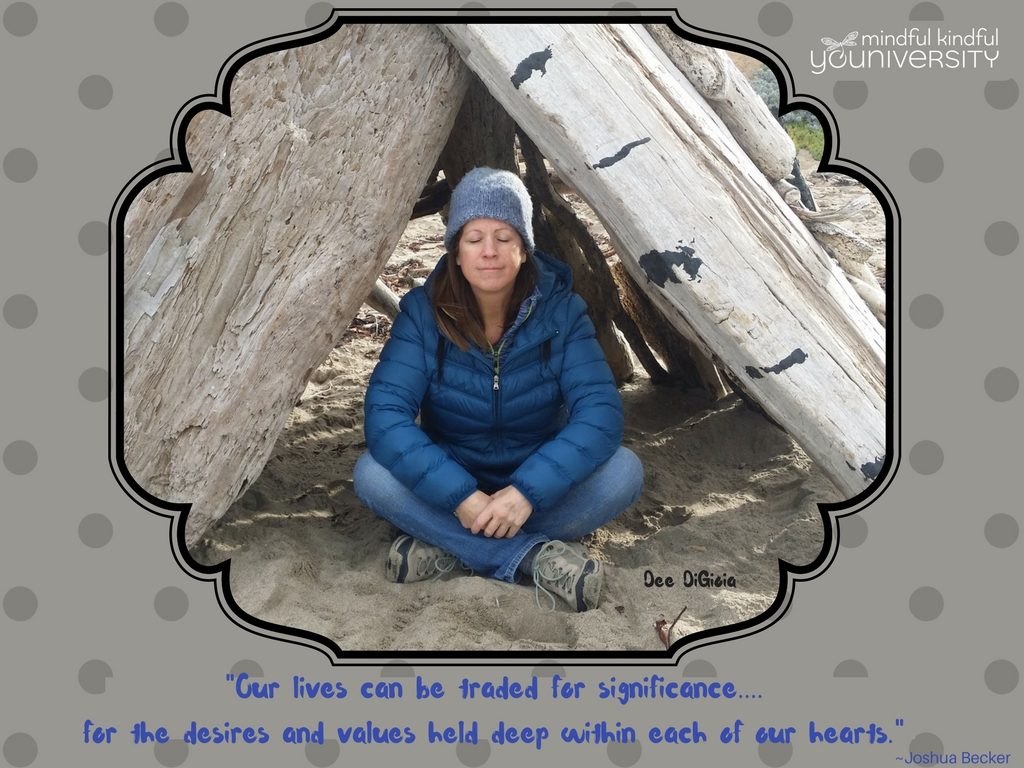 Mindful ~ Kindful ~ Peaceful