~

Mindfulness for Schools

~
Student Programs // Staff Training // Consulting
San Luis Obispo County, CA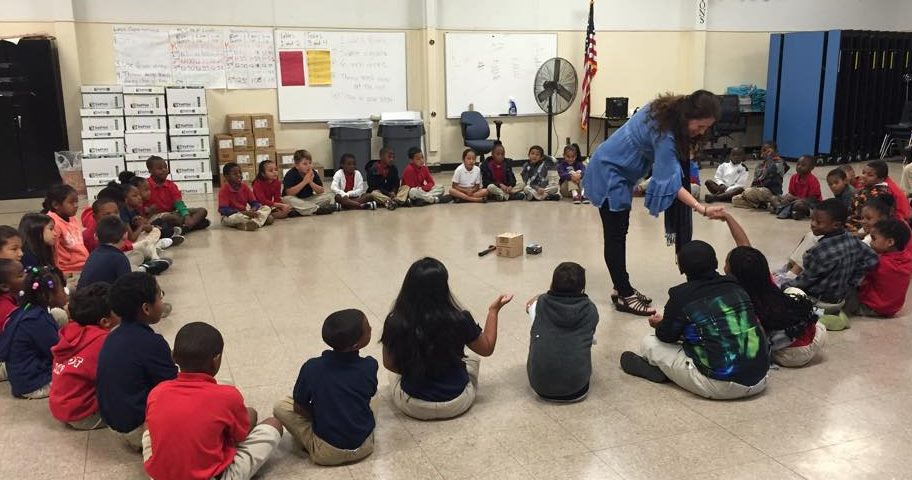 Mindful Kindful YOUniversity (MK YOU) offers
Mindfulness-based Social-Emotional Learning Enrichment Programs

for your classroom or school, grades Pre-k thru 12, across San Luis Obispo County, designed to address the challenges youth, and educators, face in school, and in life, which interfere with learning, relationships, and mental

well-being.
MK YOU programs provide a rich experience for all students and staff through learning and engaging in practices of mindfulness and movement grounded in science and backed by research  to support mental and physical health and well-being while developing the essential life skills of emotional intelligence, or "Sm'Heart skills".  It's the essential education for responding more skillfully to life in the 21st Century!
MK YOU program is adapted using
trauma informed practices and
evidence-based curriculums including Mindful Schools; MBSR-T; Yoga Calm; as well as resources such as The Zones of Regulation, GoZen for Anxiety Relief, and more. Bullying intervention can also be a facet of this program.  
Mindful

 ~ 

Kindful 

~

Peaceful!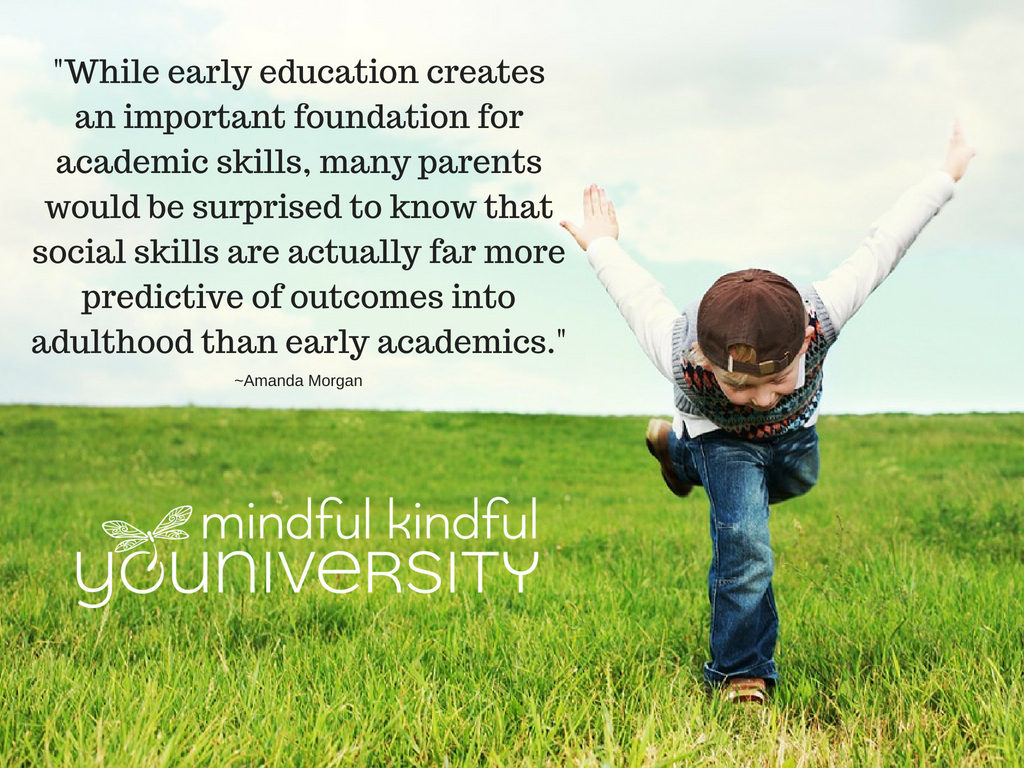 Would you like to partner with Mindful Kindful YOUniversity?
This Fall 2019, MK YOU will be serving Shell Beach Elementary in Shell Beach, CA! 
We have room for more programs!
Fill out the "Contact" info at the bottom of the page to discuss your program options!
Invest in a trained professional!
Although many schools are showing interest in bringing mindfulness to their schools, school budgetary restraints are always a factor when considering adding programs. A common response may be to have classroom teachers be responsible for implementing and maintaining a program rather than investing in a trained and qualified professional from the start. Cutting corners to save on dollars can be setting a program up for failure because the program will likely be ineffective when there is not enough value placed on it, and in the long run, it costs the school more in dollars and time invested. If you are going to invest, go with the best ~ start your program off under the guidance of a trained and certified professional. Be creative in securing funding for your school mindfulness program (grants, donors, PTA, fundraising) ! Take a look below at problems and solutions for an effective program. READ MORE: "Effective Programs ~ No Shortcuts" and then learn more about my journey of leaving special education to train and teach mindfulness in our schools and communities. ~ About Dee DiGioia, Founder of Mindful Kindful YOUniversity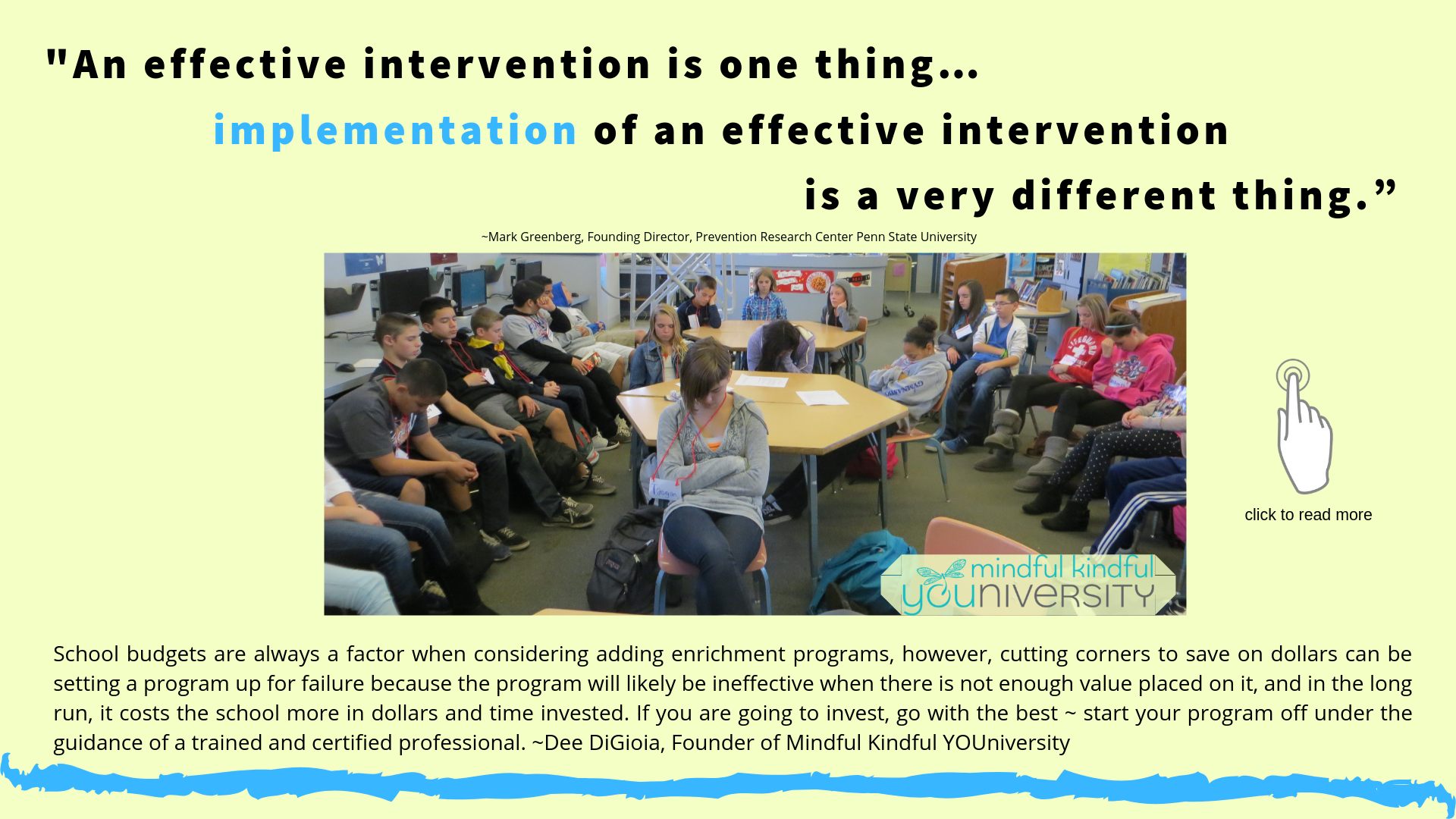 SCHOOL PROGRAM OPTIONS at a glance
Mindful Kindful YOUniversity offers a range of options for a program which can be customized to meet your school's needs and designed to address the challenges youth, and educators, face in school, and in life, which interfere with learning/work, relationships, and mental well-being. Choose from a variety of options as seen below which best meets your classroom/school needs. Or contact me to go over these options with you! These options are suggestions based upon already existing models in schools across our country. The possibilities are endless! 
CLASSROOM OR SCHOOL-WIDE STUDENT PROGRAM OPTIONS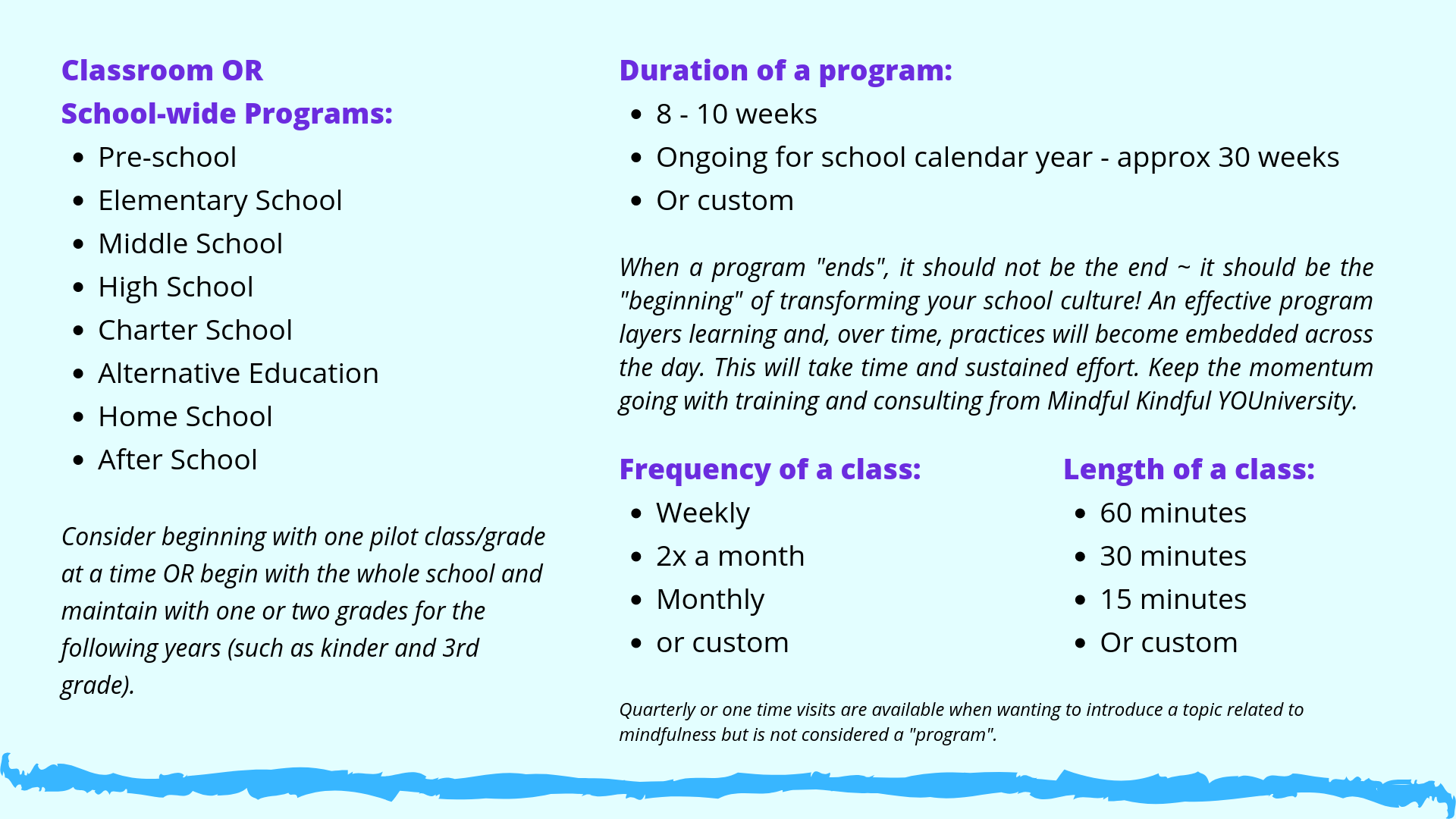 AFTER SCHOOL and/or SUMMER STUDENT PROGRAM OPTIONS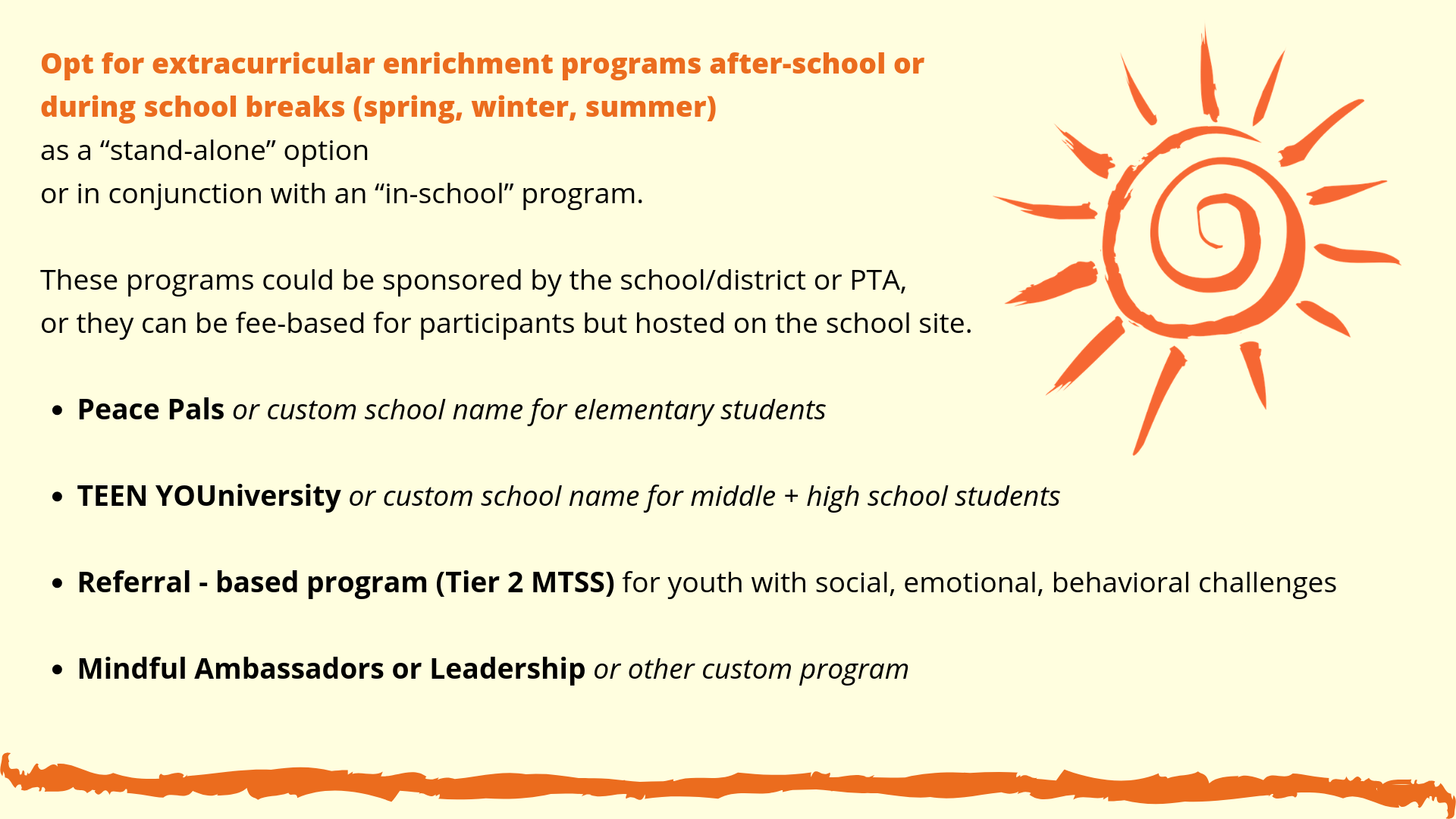 See descriptions for our current community programs: Peace Pals and TEEN YOUniversity
STAFF, PARENT, COMMUNITY PROGRAM OPTIONS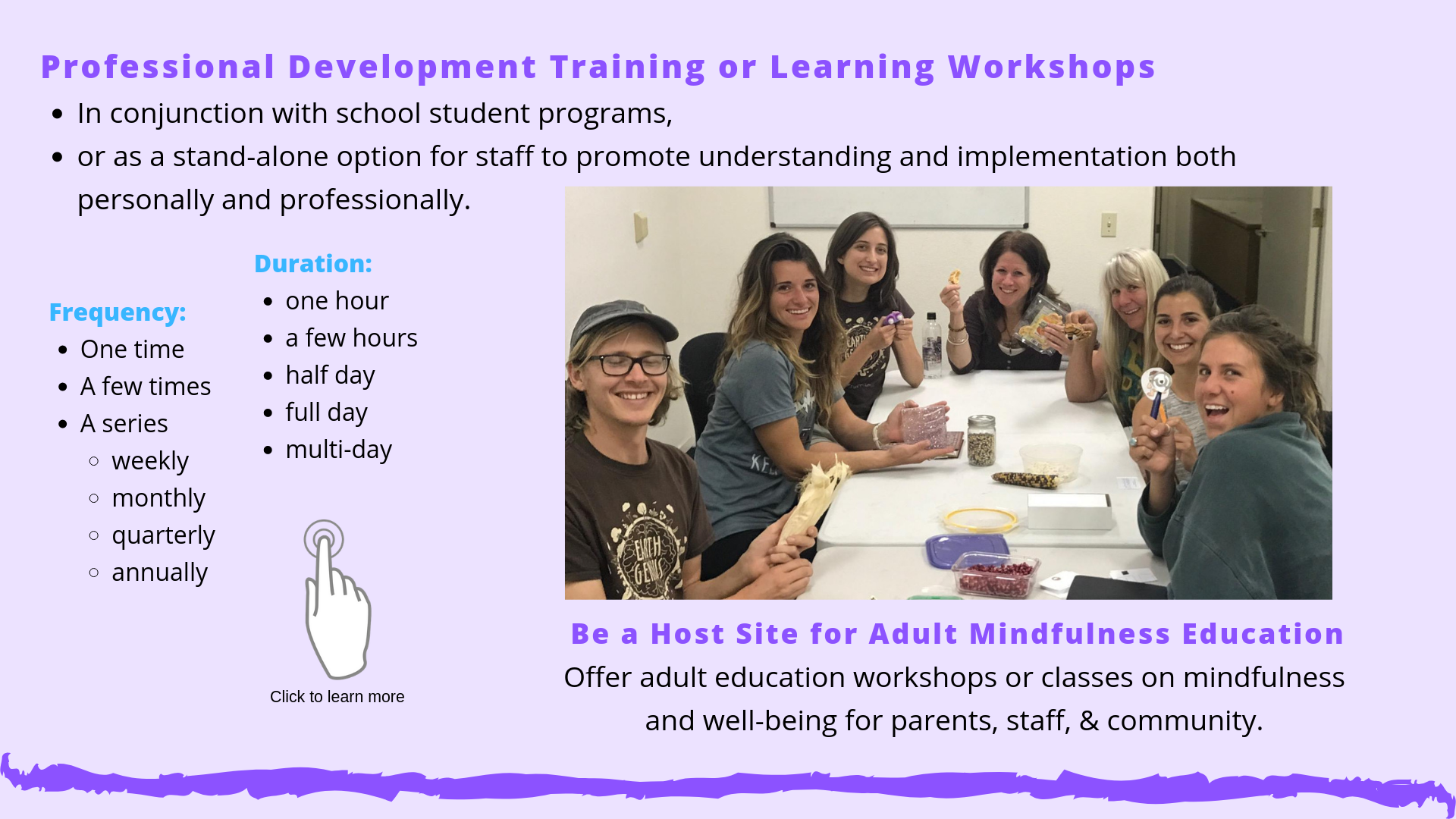 Option to have Film Screening of May I Be Happy: Mindfulness for the Classroom and Beyond for both staff and parents to introduce what mindfulness looks like in a school setting.
CONSULTING & MENTORING OPTIONS: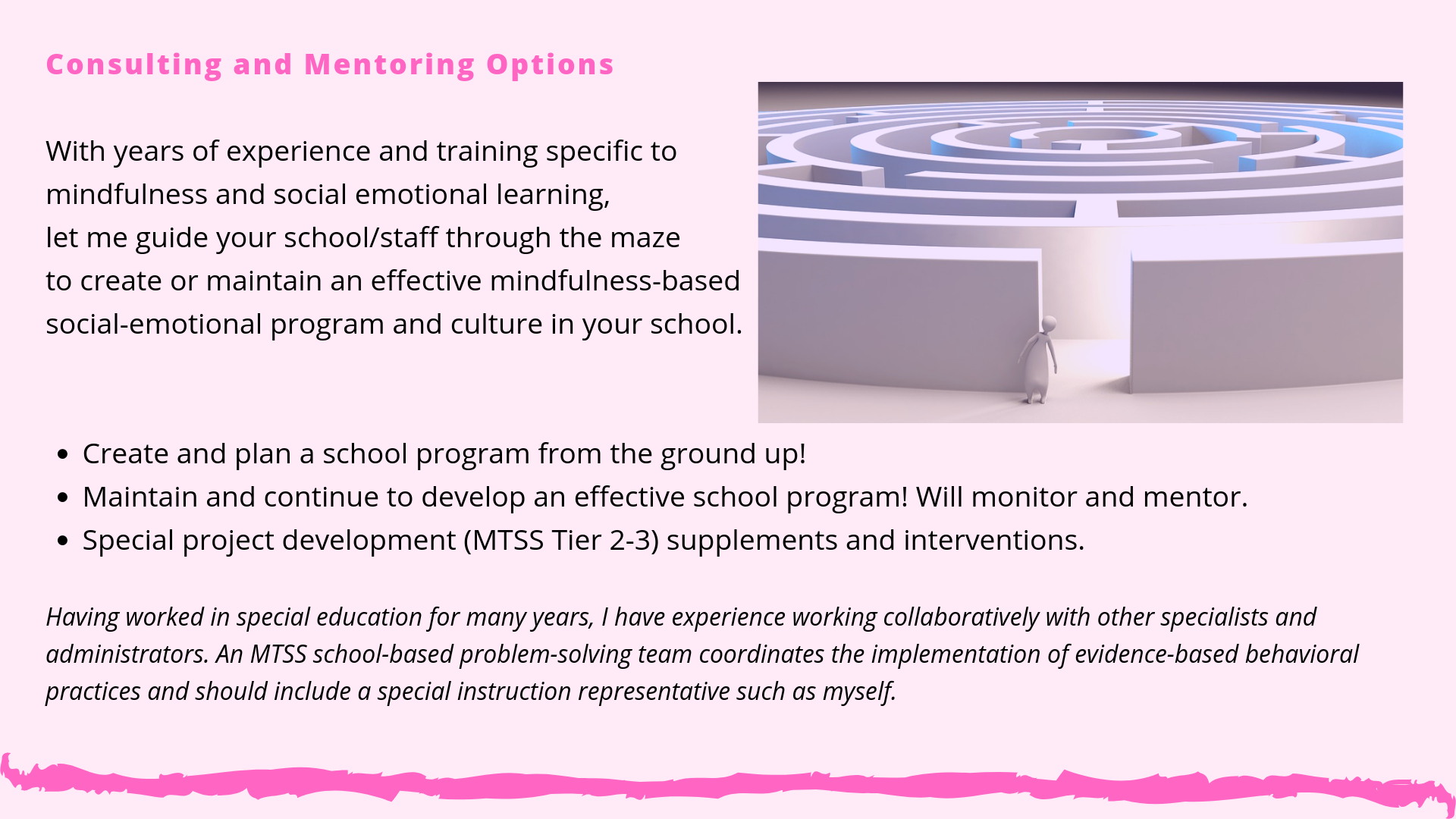 The information above is summarized in PDF Documents for your convenience: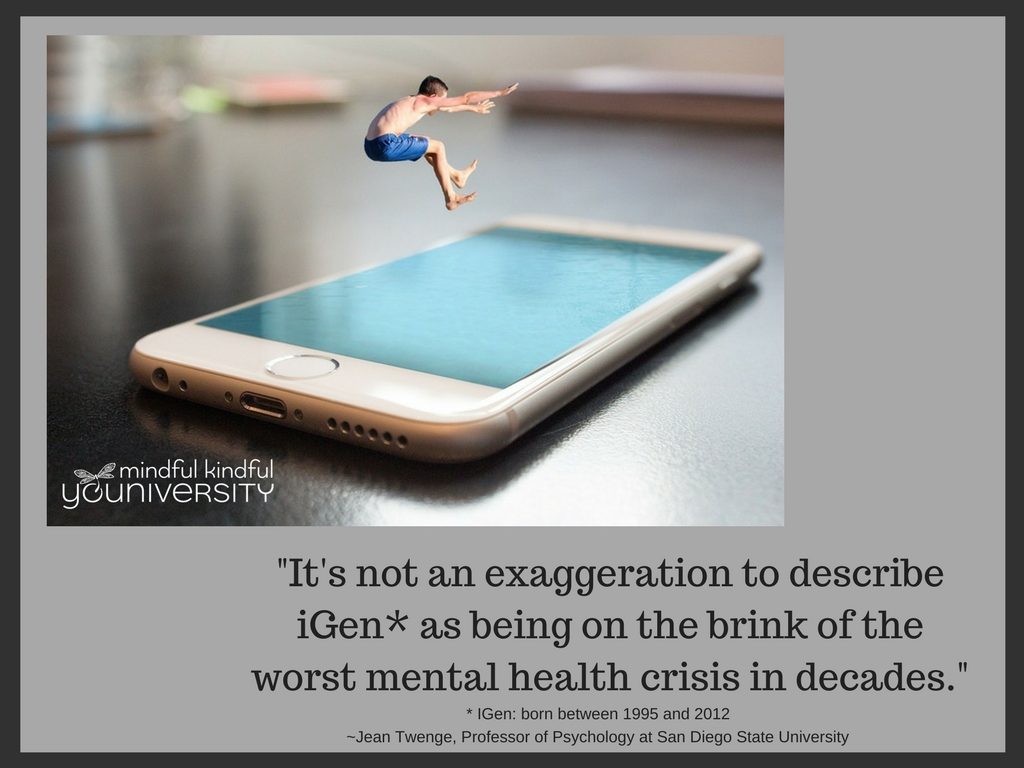 Mindfulness offers evidence based prevention and intervention options in a Multi-Tiered System of Support (MTSS) in schools.
A Multi-Tiered System of Support (MTSS) is a framework designed to address academic, behavioral, and social-emotional learning in a fully integrated system of support in schools. Here is how mindfulness fits into the three levels or tiers. MK YOU offers school program options for each of these levels (as well as community programs and personal coaching). Here is how mindfulness fits into the three levels or tiers: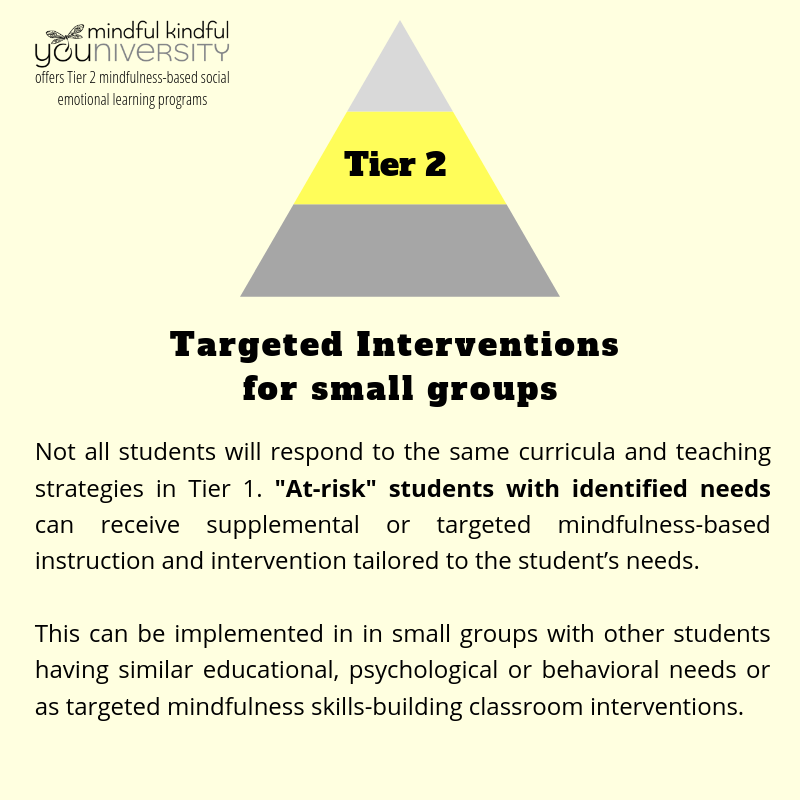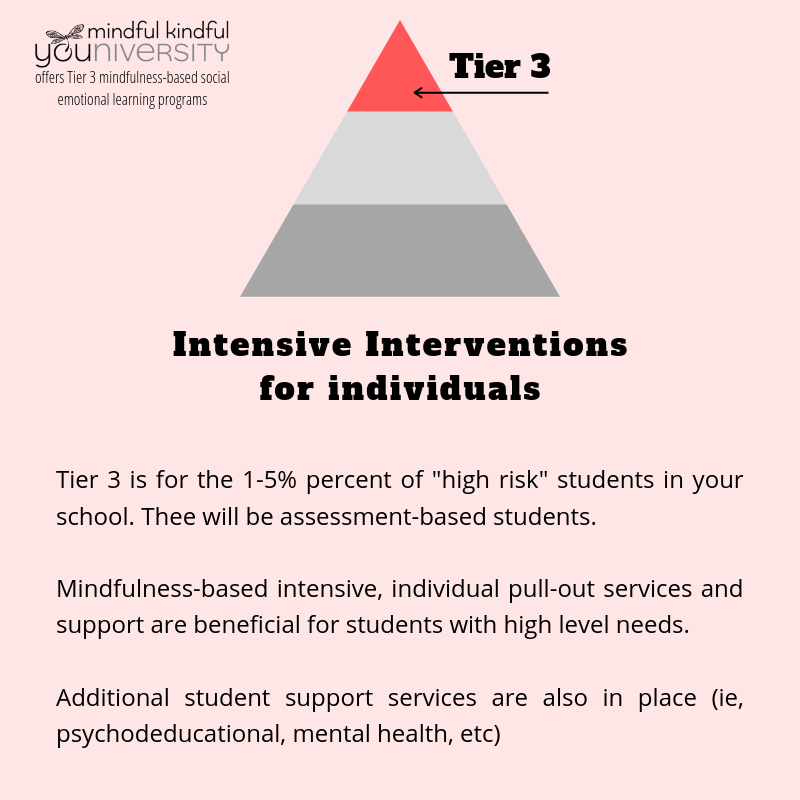 Mindfulness provides a foundation for education because it contributes to optimal conditions for learning and  for teaching! Many of our children in school are not in the state of mind to absorb learning because they are in a chronic state of stress. Marc Brackett, director of the Yale Center for Emotional Intelligence says "The neural pathways in the brain that deal with stress are the same ones that are used for learning. Schools are realizing that they have to help kids understand their feelings and manage them effectively. We, as a country, want our kids to achieve more academically, but we can't do this if our kids aren't emotionally healthy."  
>>> What is Mindfulness? <<<
>>> Wellbeing & Mindfulness for Youth <<<
>>> Mindfulness Skills for the 21st Century <<<
>>> Research and Benefits <<< 
>>> Resources: Why Mindfulness in Education? <<<
>>> Well-Being and Mindfulness for Educators <<<
>>> What our students are saying about Mindfulness <<<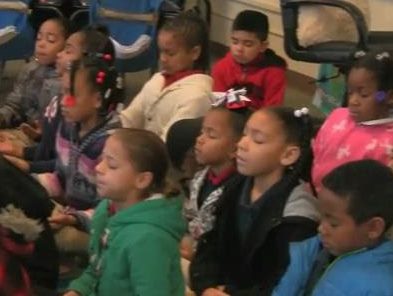 "I can't tell you how much my students benefited from the Mindfulness sessions Dee DiGioia would do with them. Many of our students had difficulties channeling emotions due to various reasons, but through their learning of how to be mindful they were able to figure out alternative ways to handle stressful situations. It's truly a testament to the program, and to Ms. DiGioia, when students can utilize the Mindfulness strategies on their own inside and outside the classroom." ~Michelle Castelli, 2nd Grade teacher, PS7, Sacramento Pilot Program (photo above)
Mindful Kindful YOUniversity Program: 
Research-based Mindfulness and Movement:

Evidence based curriculum from Mindful Schools (designed for under-resourced public schools facing high turnover rates and toxic stress: simple, effective mindfulness practices that can be integrated into the school day and adapted for diverse environments) with a variety of other effective resources, programs, curriculums, techniques that I have been trained in over the years. Also evidence based curriculum from Mindfulness Based Stress Reduction for Teens. Different modes of experiential and reflective learning are offered thru literacy, movement, yoga, music, art, drama, and exploration. I am certified and trained by both of these aforementioned companies. I am also certified as a Yoga Calm Youth Instructor – I chose this program because of its emphasis on social-emotional learning and application for integrating in the school day; and Autism Movement Therapist. MK YOU also weaves in programs such as The Zones of Regulation, GoZen for Anxiety Relief, and more.
 I am a lifelong learner and am continuing my education to deepen my knowledge and skills including my recent and/or current coursework including: Trauma-Informed Care for Professionals Working with Youth and Advanced Trauma-Informed Care Toolkit for Youth Workers (Center for Adolescent Studies) and Niroga Dynamic Mindfulness for Stress Resilience (Dynamic Mindfulness Foundation). I also do continuing education and trainings through Mindful School's ongoing support for its certified graduates while also attending conferences and reading books.
Integrate into the busy school day: The practices are designed to be integrated into the school day, and across environments.  Staff will learn a common language and have "tools" at their disposal, creating the optimal conditions for both learning and teaching!  Mindfulness can be linked to common core standards.
Healthy Habits: Each student will commit to weekly intentions to practice the healthy habits to become leaders who help will make the world a better place, beginning with their world within their own bodies and rippling to their relationships at school, at home, and in their communities.
Nonviolence and peaceful empowerment

is an essential piece in MK YOU. MK YOU contributes to a safe and supportive school community. I specialized in Bullying Intervention for many years before founding Mindful Kindful YOUniversity and am a published author and bullying prevention specialist (founder of "Caring and Courageous Kids"). I initiated programs in the schools where I worked at the time such as "Peace Project", produced a children's educational movie on bullying intervention and published a guidebook to the movie. Past training has also included: Darkness to Light ~ Stewards of Children to prevent Child Sexual Abuse; Kidpower to empower and protect children to from bullying, harassment, sexual abuse, abduction, assault, and other violence; Positive Behavior Intervention Supports (PBIS); Crisis Intervention (CPI), and more.  My training includes "trauma informed" practices.
Customize for Your Classroom: Emphasis can be customized to address your classroom/school greatest challenges or needs.
~~~~~~~~~~~~~~~~~~~~~~~~~~~~~~~~~~~~~~~~~~~~~~~~~~
"It was such a pleasure working with you Dee! You are a fabulous human being and the work you did with our kids in "Circles" was so so transformative! Keep up being sunshine, this place really needs you!"  ~Emma Shandy, 1st grade teacher at PS7
~~~~~~~~~~~~~~~~~~~~~~

Dee DiGioia (di JOY uh) ~ Certified Mindfulness,Yoga Calm, Cognitive Behavioral Therapy, Life Skills Coach, Consultant, published author and Founder of Mindful Kindful YOUniversity (MK YOU). MK YOU offers community programs, in-school programs, consulting, professional development, personal coaching, and mini-retreats across San Luis Obispo County.
Choose from a variety of options
which best meets your classroom/school needs.
I can go over these options with you!
CONTACT ME TO LEARN MORE!
Use the form below or call 805-270-5523