Book and DVD
by Dee DiGioia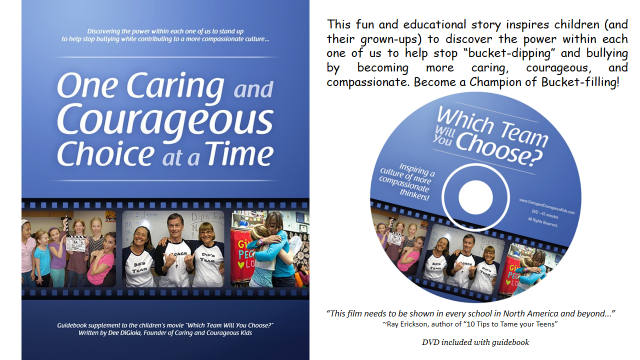 My book and dvd came out of my earlier work beginning in 2009 with the founding of "Caring and Courageous Kids", a bullying intervention program at the school where I was working. The dvd and guidebook is a great complement to any existing bullying prevention program in schools, or a spark to get one going. It is a great way for families to practice skills together to become "Champions of Bucket-filling" – growing kindness and compassion! Mindful ~ Kindful ~ Peaceful! 
Book/dvd available for purchase with a DONATION 

using the form at bottom of page!
DVD, Which Team Will You Choose?
By Dee DiGioia
In 2012, I wrote, directed, and produced Which Team Will You Choose?, a children's educational movie, with the help of volunteers from the community to act in it, including students from my school, and intended to use at our school's assembly and for my after-school "Peace Project". It is also intended for elementary school-aged children to watch with their teachers in the classroom or with their parents at home. This is a fun and educational story on a serious topic, giving us a window to see what it's like to be bullied, but more importantly, it opens the door to look within our hearts and minds to consider the choices we are making in our everyday relationships with others.
This 45-minute movie integrates the "bucket-filling" concept into the story to teach about becoming more mindful of our choices to promote peaceful, positive relationships with others. Being a bucket-filler means we are saying or doing things which help others feel good and feel happy and fills their bucket (heart) with good thoughts and feelings, whereas bucket-dipping is saying or doing something which dips into our bucket (heart) and takes away those good feelings causing sadness, confusion, hurt, or anger. Someone who stands up to bullying is a bucket-filler!
The story is about some typical elementary school students who are experiencing the detrimental effects of bucket-dipping and bullying within their own friendship circle in their school. When a teacher leaves the classroom, Tina has an opportunity to bully her friend Kiara, and it's probably not the first time. The other children are powerless to stop her, or are they? Along comes a Coach to help them learn how to "exercise their brains" and become "Champions" in their relationships with one another. He introduces "BF", the Bucket-filling team leader, and "Dip", the Bucket-dipping team leader who seem to get in our brains and they both try to get us on their team! BF encourages the children to "be smart, use your heart!" to help them practice using a caring and courageous heart in making choices when confronted with bullying in their friendship circles. Coach and BF help the children understand that everything people do or say is by choice, and can either add to the problem of bullying, or help the problem go away. According to the scoreboard, their choices quickly added up and contributed to the bullying problem, putting them on the team they never dreamed they would be on – "Dip's" team.
Is it hopeless to think they can change and be on BF's team? How will they ever remember what to do? Is it too late to "flip the dip?" You, too, can discover that "it's cool to care" to help your homes, schools, and communities become a happier and more peaceful place to be! Throughout the ages all cultures have used storytelling to instill moral values and to pass on wisdom and knowledge for future generations. Here is one more story made with lots of love. 
"Dee DiGioia's video on bullying is so powerful! The impact the video will make across young children and adults is immeasurable. It is so simple yet utterly crucial to become knowledgeable about the effects of bullying and gain insight on ways you can prevent it!" ~Jaime Enscoe, parent
"My younger brother and I used to fight sometimes and provoke each other by dipping into each other's bucket, and dipping back. My mom introduced us to the movie and we watched it together as a family. My brother and I have not had a fight since. Watching the movie helped us learn to fill each other's buckets and now we try to fill each other's bucket each day. It helped me a lot in my relationship with my brother because it taught me how to be a BF bucket filler and not be a bucket dipper. When I bucket fill, it makes me feel wonderful inside. I used to fill other people's buckets easily but not my brothers. Now I understand to have a happy relationship I can bucket fill to make relationships better and keep them great! I like making jokes. The movie also helped me realize that to help a situation that could be negative, I can use my humor to make it more positive. Bucket filling has helped my whole family and I am very happy that I got to watch the movie. It makes my whole family happy and it makes me happy too! When I grow up, I'm going to have my own children watch it so they can understand it and they will know how to fill each other's buckets. Thank you very much Ms. Dee. You've helped me so much."  ~Damien Dormoy, age 11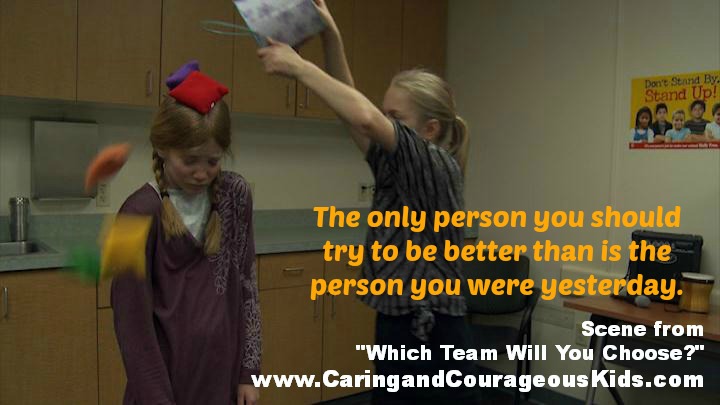 Guidebook,
One Caring and Courageous Choice at a Time
By Dee DiGioia
The Guidebook, One Caring and Courageous Choice at a Time, is a supplement to the movie,"Which Team Will You Choose?" (the dvd is included with the purchase of the book). It is an invaluable resource for parents, grand-parents, day-care providers, teachers, administrators, counselors, coaches, scout leaders, and so many other adults who work with children and recognize the value in having regular discussions to help children develop life-skills which will help them feel emotionally and physically safe in their relationships with others. Regular follow-up discussions and practicing the skills through role playing are critical to helping children learn skills best!
It is suggested that the 45-minute movie first be played in entirety and watched together (parent with child, teacher with students, etc.), and then followed up with daily or weekly discussion times (a scene at a time can be reviewed if needed as each scene is only a few minutes long).The guidebook offers discussion questions (or written assignments)  and role playing suggestions following each scene in the movie, as well as activities and projects to keep the doors of communication open and on-going to help awaken the hearts and minds of elementary school children and help empower them in knowing what to say or what to do when confronted with bullying. It provides explanations for the concepts within each scene such as emotional intelligence, affirmations, teasing, reporting, guided visualizations, and original concepts such as "be smart, use your heart" and "flip the dip." The guidebook includes additional resources for children and adults. Learn the lyrics to the original song "Peace for You and Me", learn about "My Peace Promise", and create a "Champion's Challenge" that would be appropriate for your home, school, or youth group.
It's not just about changing children. It's about changing the mindset of a culture. It begins within.
"One Caring and Courageous Choice at a Time" is a must buy program for any school, church, residential treatment program or organization that works with children. This book is the "teacher's edition" for the film, "Which Team Will You Choose?" (included with the book) which was produced, written and directed by Ms. DiGioia.  "Which Team Will You Choose?" demonstrates what it takes to Flip the Dip which means to go from bullying (Bucket Dipping) to true friendship (Bucket Filling). The direction is crisp, the script is clear, the acting is wonderful and the kids are adorable. I was moved to tears of compassion on more than one occasion. This film needs to be shown in every school in North America and beyond. It is truly a program that moves kids from being Bucket Dippers to being Bucket Fillers and Hurray for that. I would to love to see a couple of sequels for Middle School and High School aged students." ~Ray Erickson – Author of Ten Tips to Tame Your Teen, Strategies That Work!
"As a parent to a child with autism that got bullied relentlessly, I am giving you a standing ovation with tears running down my face. Do you understand the amazing guidebook and movie you created? And the difference you are making in the world? Which Team Will You Choose movie and guidebook make it so easy for teachers to incorporate into a lesson plan – I can speak from experience because I taught elementary school for 11 years. The guidebook is full of inspirational quotes, questions to go with each chapter of the movie, resourceful books recommended at the end, and beautiful artwork from the Peace Project – AMAZING!!! My hat is off to you, congratulations!! Thank you for sharing your knowledge, experience, and talent with the rest of us!!! This was definitely a labor of love!!!" ~Lori Ciccarelli, parent and founder of  JJ's Journey- A Journey About Autism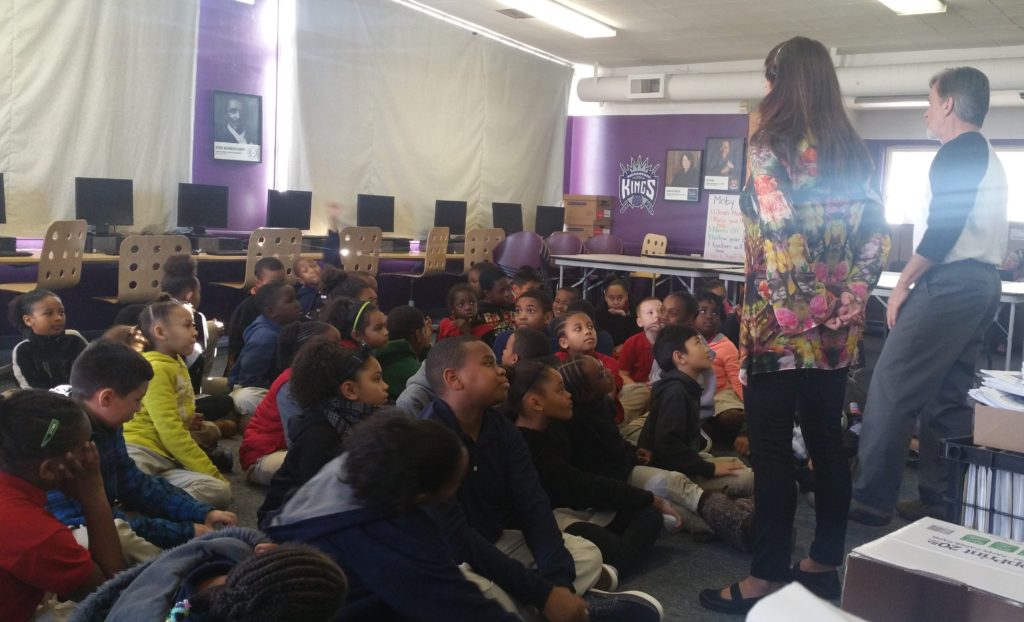 Dee DiGioia is available to do a custom workshop, assembly, or class series for your classroom, school, or youth group! "Coach" from the movie, Which Team Will You Choose?" can appear as well! Or do it yourself and purchase the book and dvd below!
Purchase Book/dvd with a DONATION 
using the form below
See why Clark County School District in Las Vegas, NV purchased over 200 books/dvd's for their schools!!! 
RELATED LINKS:
Bullying Intervention ~ "Caring and Courageous Kids"  
Dragonfly Circles ~ Community classes where we are transforming hearts and minds: Mindful * Kindful * Peaceful!!!
What is Mindfulness? Emotional Intelligence? 
Well-being and Mindfulness for YOUth
Blog: News Story on Digital Citizenship is Timely Again and Again