Bullying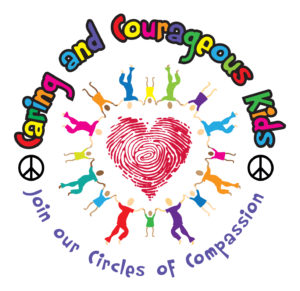 Prior to founding Mindful Kindful YOUniversity, I specialized in bullying prevention and founded Caring and Courageous Kids (CCKids) in 2009. As a speech-language therapist I saw too many of my special needs students being negatively impacted as targets of bullying, and too many students joining in or standing by not knowing what to do in the elementary school where I taught. Unfortunately, too many adults were not effectively responding. I have a dream that one by one, family by family, classroom by classroom people will become inspired to stand up to bullying, while contributing to a more compassionate culture, one caring and courageous choice at a time.
Over time the CCKids mission began to include, not just my students with special needs, but for all children and adults to help everyone understand that there are things within our control to help break the cycle of bullying and to feel safer and happier in our homes and schools. I wrote, directed, and produced a movie Which Team Will You Choose?  with volunteers from the community. It was made to help increase compassion in the school where I worked at the time, so children would stand up for students with special needs challenges who were being bullied, and perhaps become more aware of how hurtful their choices to bully or stand by are. I followed up the movie by publishing a guidebook, One Caring and Courageous Choice at a Time, to help educators and parents understand there are steps we can take to deal with this pervasive challenge in our society. It's not just about changing children. It's about changing the mindset of a culture. It begins within.
The focus of CCKids has turned to mindfulness which I believe is the missing piece and peace in bullying prevention, in cultivating compassion, and in education overall.
Over time I will be merging my two websites but for now,
to learn more about my work with bullying prevention go to:
Here are some of the highlights in my Caring and Courageous Kids work:
published a guidebook for educators and parents, "One Caring and Courageous Choice at a Time";
wrote/directed/produced a children's educational movie, "Which Team Will You Choose?";
wrote and published a peace song, "Peace for You and Me";

provided whole school assemblies;

implemented "After-School Peace Project" (and during recess, too, to provide a safe space alternative)

Pioneered a middle school "Circles of Compassion" program;

pioneered a K-5 "Circles of Compassion" program at an inner-city charter school;

directed and produced numerous student-project you-tube videos;

provided numerous community workshops;

and presented at 3 national conferences on bullying prevention and cultivating compassion.