Bullying Intervention 
~ Caring and Courageous Kids ~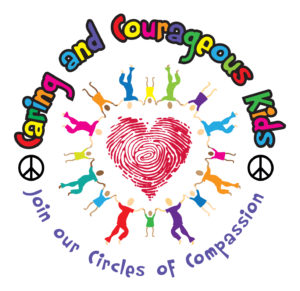 Prior to founding Mindful Kindful YOUniversity, I specialized in bullying intervention and founded Caring and Courageous Kids (CCKids) in 2009. As a speech-language therapist I saw too many of my special needs students being negatively impacted as targets of bullying, and too many students joining in or standing by not knowing what to do in the elementary school where I taught. Unfortunately, too many adults were not effectively responding. Over time the CCKids mission began to include, not just my students with special needs, but for all children and adults to help everyone understand that there are things within our control to help break the cycle of bullying and to feel safer and happier in our homes and schools.
I have a dream that one by one, family by family, classroom by classroom people will become inspired to stand up to bullying, while contributing to a more compassionate culture, one caring and courageous choice at a time.
The mission of Caring and Courageous Kids, founded by Dee DiGioia, is to educate the hearts and minds of young children, and the important adults in their world, to inspire a culture of compassionate thinkers who have the courage to break the cycle of bullying, abuse, and violence, with choices which will contribute to a more compassionate and peaceful world beginning in our homes, schools, and communities.

For simplicity, the Caring and Courageous Kids website was taken down and merged with this site.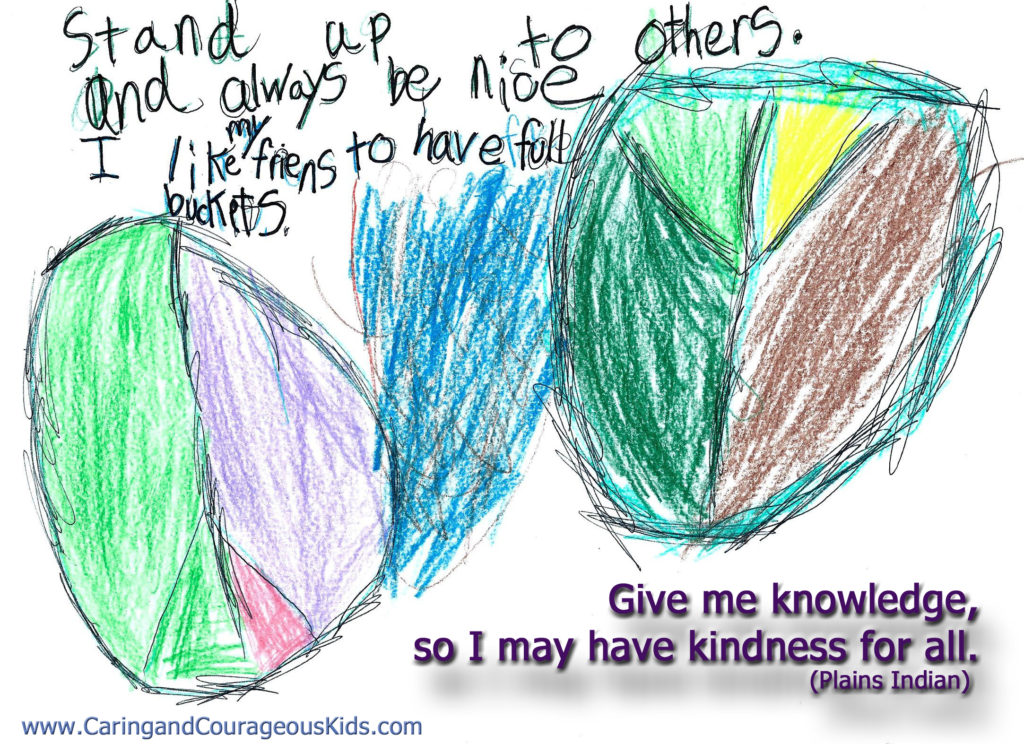 MINDFULNESS ~ The Missing Piece/Peace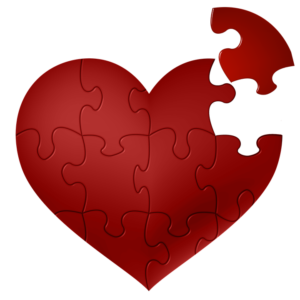 The focus of CCKids has turned to mindfulness which I believe is the missing piece and peace in bullying intervention, in cultivating compassion, and in education overall. Whether a child is being bullied, standing by or standing up to bullying, or the one doing the bullying, mindfulness helps children develop the skills to develop the essential life skills for self awareness and regulation, social awareness and relationship skills, and responsible decision-making and leadership skills.
Explore, practice, and grow skillfully with us as we grow healthy habits of heart and mind: Mindful * Kindful * Peaceful!!!
LEGACY: I knew Caring and Courageous Kids made a great impact during the time I was focused on implementing programs. With each classroom visit, with each project, the lines outside my classroom grew longer each day for children coming before school or during recess for help with their problems or to say hello or to give a hug; children dropping off pictures they made for me on peace or love and letters of thank you or letters on standing up to bullying; children asking to come to my room to hang out at recess; emails and chats from parents; parents asking for help; teachers asking for help. These were some of the most meaningful years in my career! I carried on the program at a middle school in Folsom, and again in a charter school in Sacramento.
I invite you to check out the LEGACY PROJECT VIDEO which I spearheaded at PS7- throughout the video are the 5th grade student projects created to leave a lasting legacy or imprint at their school, along with myself being interviewed to explain the Legacy Project and how it can help create a culture of caring and compassion. This video is featured at the top of our webpage >>> Peace Project videos.
AUTHOR/DIRECTOR:
I wrote, directed, and produced a movie called Which Team Will You Choose? with volunteers from the community. It expanded on the "bucket-filling and bucket-dipping" concept and was made to help increase compassion in the school where I worked at the time, so children would stand up for others who were being bullied, and perhaps become more aware of how hurtful their choices to bully or stand by are. I followed up the movie by publishing a guidebook, One Caring and Courageous Choice at a Time, to help educators and parents understand there are steps we can take to deal with this pervasive challenge in our society. It's not just about changing children. It's about changing the mindset of a culture. It begins within.
~ available to purchase with a donation ~
Implement a mindfulness-based social-emotional
learning program in your school!
LEARN MORE HERE: Options for In-person or Virtual Pre-recorded program
RELATED LINKS:
Youth Programs ~ Current programs where we are transforming hearts and minds: Mindful * Kindful * Peaceful!!!
What is Mindfulness? Emotional Intelligence? 
Well-being and Mindfulness for YOUth
Blog: News Story on Digital Citizenship is Timely Again and Again
Blog: Guided Visualization: A Magic Wand?
     In the News: "Peace on Earth Begins Right Here"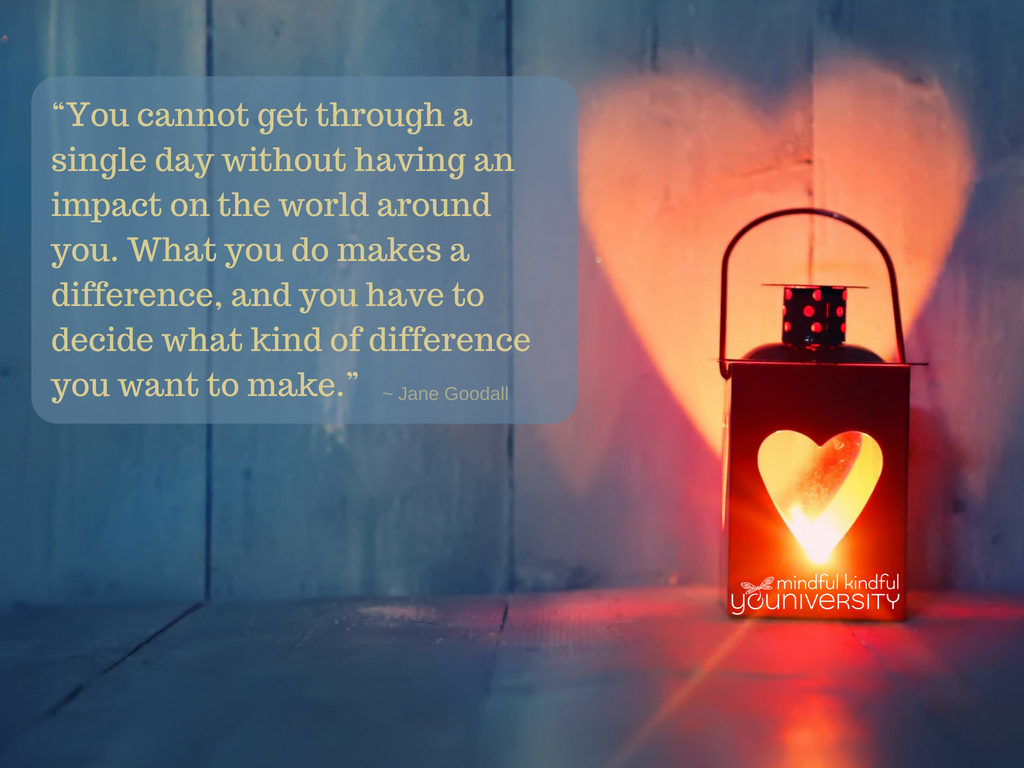 Here are some of the highlights in my Caring and Courageous Kids work:
Author of published guidebook for educators and parents, "One Caring and Courageous Choice at a Time"
wrote/directed/produced a children's educational movie, "Which Team Will You Choose?"
wrote and published a peace song, "Peace for You and Me"

whole school assemblies

after-school program: "Peace Project" (and during recess, too, to provide a safe space alternative)
Pioneered a middle school program: "Circles of Compassion"
pioneered a K-5 program at an inner-city charter school: "Circles"
directed and produced numerous Peace Project videos with students of our various programs
presented at 3 national conferences on bullying prevention and cultivating compassion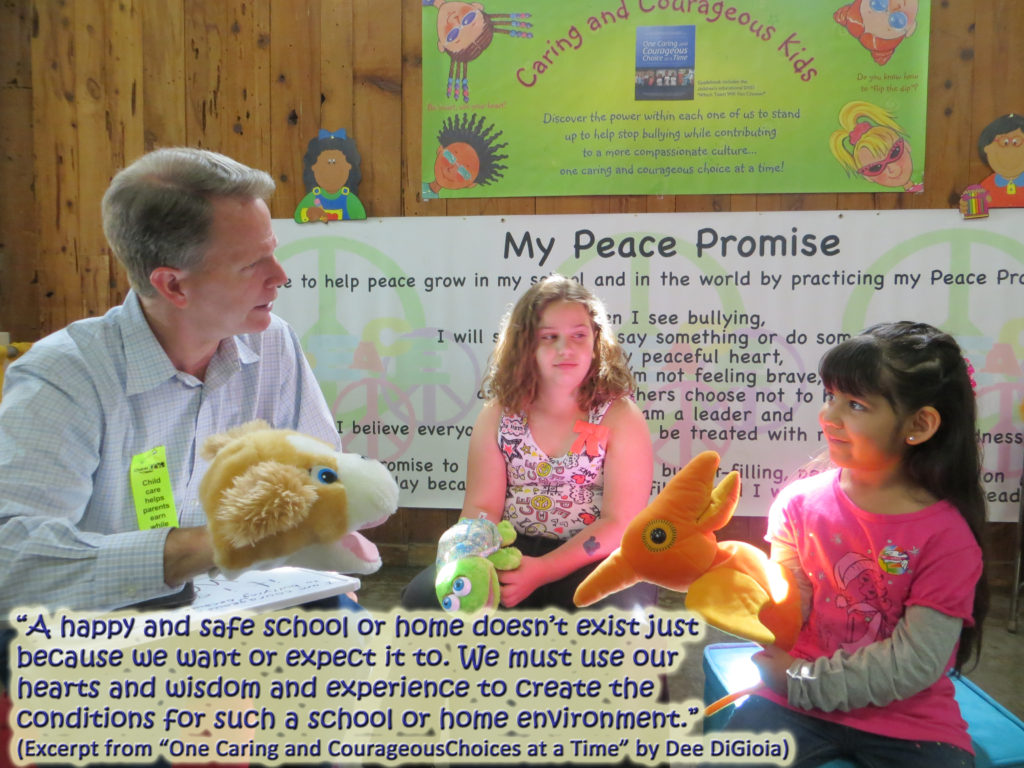 Objectives of Caring and Courageous Kids programs:
To raise awareness on the effects of bullying and answer the question

"What can I do to help?"

To awaken hearts and develop a self-awareness (mindfulness) of the choices we each make and determine what changes we can each make to contribute to a more compassionate and peaceful world (peace begins with me). Adults should reflect on what they are modeling in their own lives.

To teach some easy, but effective, concepts that everyone can easily get on board with (practice, practice, practice!) to create positive, healthy habits and affect change in helping to reduce the negative impacts of bullying.

To open the door for important and regular

discussions on bullying, abuse, and violence at home, in schools, in youth groups, in our communities to openly talk about emotional and physical safety and how to access support (both inner and outer resources)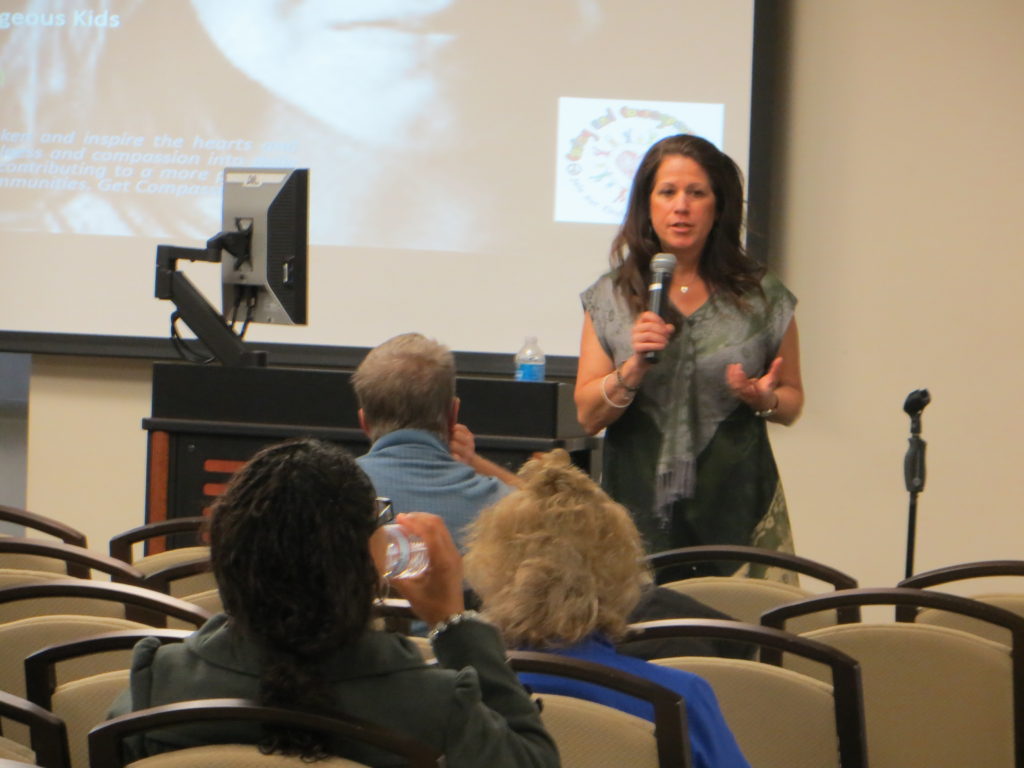 Dee DiGioia is available to do a custom workshop, assembly, or class series for your classroom, school, or youth group on the topic of bullying and mindfulness! "Coach" from the movie, "Which Team Will You Choose?" can appear as well! I am also available for conferences and adult professional development.