Well-being and Mindfulness for Parents
Join or Be a Host for a "

Mindful Awareness in Parenting" (MAPs) meetup group

where I teach, guide, and coach parents in mindfulness practices for cultivating those inner resources for responding to the stresses and challenges that come with parenting and in life. It's about self-care in the small moments of life as it unfolds. The greatest gift we can give our loved ones is our presence – our well-nourished, balanced and healthy presence. This is how each of us can contribute to healthy, thriving families … beginning within ourselves. What a beautiful lesson and legacy for your child to learn these essential life skills for well-being because of YOU! 
Start a MAPs group in San Luis Obispo County ~ your compass for experiencing more balance, joy, calm, and overall well-being. For you. For your family. Together with Friends.
Parent MAPs Meetups ~ Workshops ~ Retreats
Your guide ~ Dee DiGioia
"One generation full of deeply loving parents

would change the brain of the next generation,

and with that, the world."  ~Dr. Charles Raison
There is no doubt about it, raising children is one of the most rewarding experiences in our lives, and, as you know, it can also be one of the most challenging!  It doesn't mean we're not good parents if we admit it's challenging. We are simply acknowledging what the experience feels like at times! Many, if not most, parents are running on empty and living on autopilot. So many of us are overscheduled, overwhelmed, chronically stressed, and exhausted, without realizing we are teaching our children to live the same way. Without a doubt, parents have nothing but the best of intentions when raising their children and are doing their best.

Children soak in and model after the things we do and say so parents have an essential role in modeling and being mindful, kindful, and skillful! It's no wonder that the enormity of our responsibilities can lead to feelings of overwhelm, stress, exhaustion, and even inadequacy in our role as a parent, which can negatively impact our health, well-being, and relationships with loved ones. Parents often put themselves last when it comes to caring for the family, because we think that's how it's supposed to be. No one taught us anything different. Until now. I would love to share with you what I wish I learned as a young parent.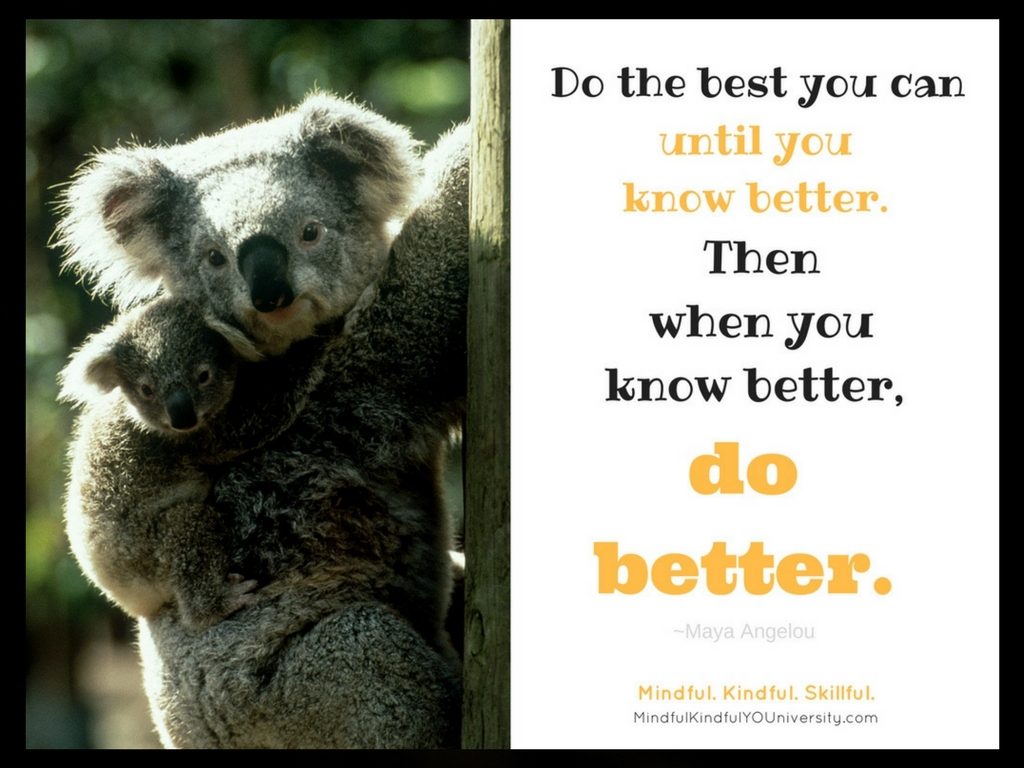 So with those little eyes upon you learning from your very way of being, how do you know the best way to help your child learn?
"Adults teach children in three important ways:

The first is by example,

the second is by example,

and the third is by example." ¹
Children cannot be what they can't see! For your child to experience well-being, it is vital that you practice well-being for yourself. You help your child best when you help him/her understand and regulate strong emotions because you are learning to understand and regulate your own; you help your child to be compassionate because you are demonstrating compassion for yourself and for others; you help your child to develop positive attitudes and healthy lifestyles when you choose to do the same. Over time and with practice, children will learn to access the tools within their hearts and minds to handle any challenges in life with the same skills which they observed in YOU!
Article: 'Self-care' is not enough to fix how much moms are burnt out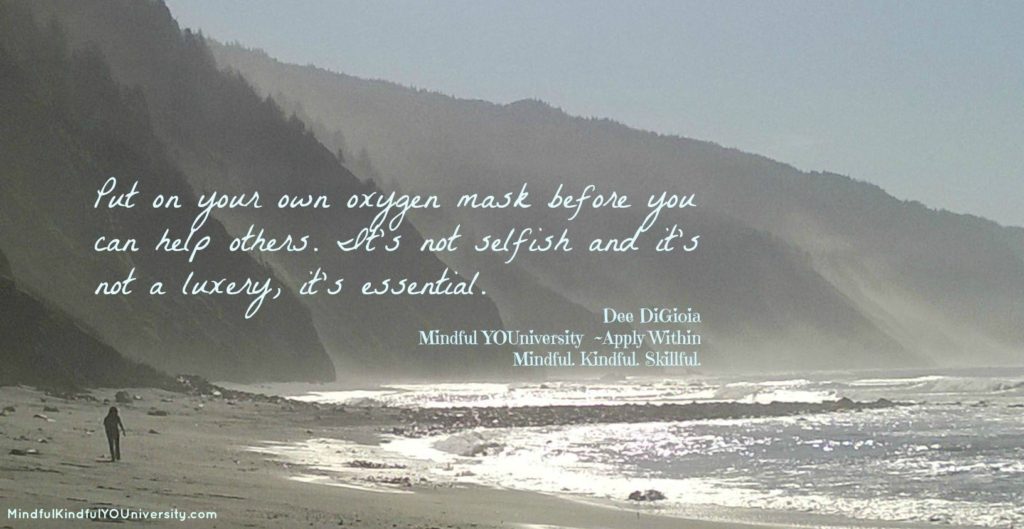 "When we are not taking care of ourselves, we end up in a cycle of deprivation in which the activities of our day deplete our energetic and emotional reserves." ~Sarah McKelvey, MA, NCC
There is no shortage of information available to us in this day and age to gain ideas on parenting, however it can be daunting navigating through the mountains of information available at the push of a button on the internet or social media. I don't know why every parenting book  doesn't have "self-care" as the first chapter! "We are drowning in information while starving for wisdom." ² Your parenting skills will be influenced by your own life's experiences, and relationships, past and present. To be better able to understand and respond to your child's behaviors, emotions, and needs, it's critical to understand and address any unmet emotional needs or trauma from your past, as well as learn the skills relating to the stresses and challenges of parenting.
"It may be that the enormous field of child development and parenting has actually done parents a disservice.
It has sent them the message that they need to look to experts to find the answers,
when oftentimes the answers lie within." ³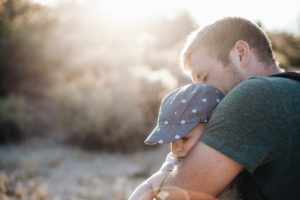 "You may become flooded by feelings such as fear, sadness or rage. These intense emotions can lead you to have a knee-jerk reaction instead of thoughtful responses. When emotional reactions replace mindfulness, you're on the low road and it is very unlikely that you will be able to maintain nurturing communication and connection with your child." ~Dr Dan Siegel
Researchers are finding that the benefits of mindfulness training benefits both emotional and physical well-being:
reduces stress, anxiety,
improves health,
improves focus, concentration, mental clarity,
improves sleep,
increases positive states,
increases compassion and acceptance in self and others,
reduces depression,
and more! See Research and Benefits
~~~~~~~~~~~~~~~~~~~~~~~~~~~~~~~~~~~~~~~~~~~~~~~~~~~
Join or Host a MAPs Group
Mindful Awareness in Parenting
Available in San Luis Obispo County
Join or host a "Mindful Awareness in Parenting" (MAPs) meetup group ~ your compass to steer you in the direction for experiencing more balance, joy, calm, and overall well-being. For you. For your family. Together with Friends.
Gather a group of interested parents and HOST a MAP series of meetups in your home or take turns hosting a meetup in your group's homes. I'll be your guide! (Donation-based)
Other options:
Learn how to advocate and help get a program in your child's classroom/school — programs for students, staff, and parents (available for all ages).  Host a Film Screening: May I Be Happy: Mindfulness in the Classroom and Beyond
Attend one our Mini-Retreats or request a private "mini-retreat" for your group of parent friends!
Attend our NEW SLO Grooving and Grounding classes!
Consider Personal Coaching for one-on-one support.
"Never doubt that a small group of thoughtful, committed citizens can change the world; indeed, it's the only thing that ever has." (~Margaret Mead)
~~~~~~~~~~~~~~~~~~~~~~~~~~~~~~~~~~~~~~~~~~~~~~~~~~~
Resources:
(1) Albert Schweitzer 
(2) E.O. Wilson
(3) Dr. Barry Brazelton