Sound "Bathing"
in Baywood – Los Osos (San Luis Obispo County), California
Visitors to the beautiful central coast of CA are welcome!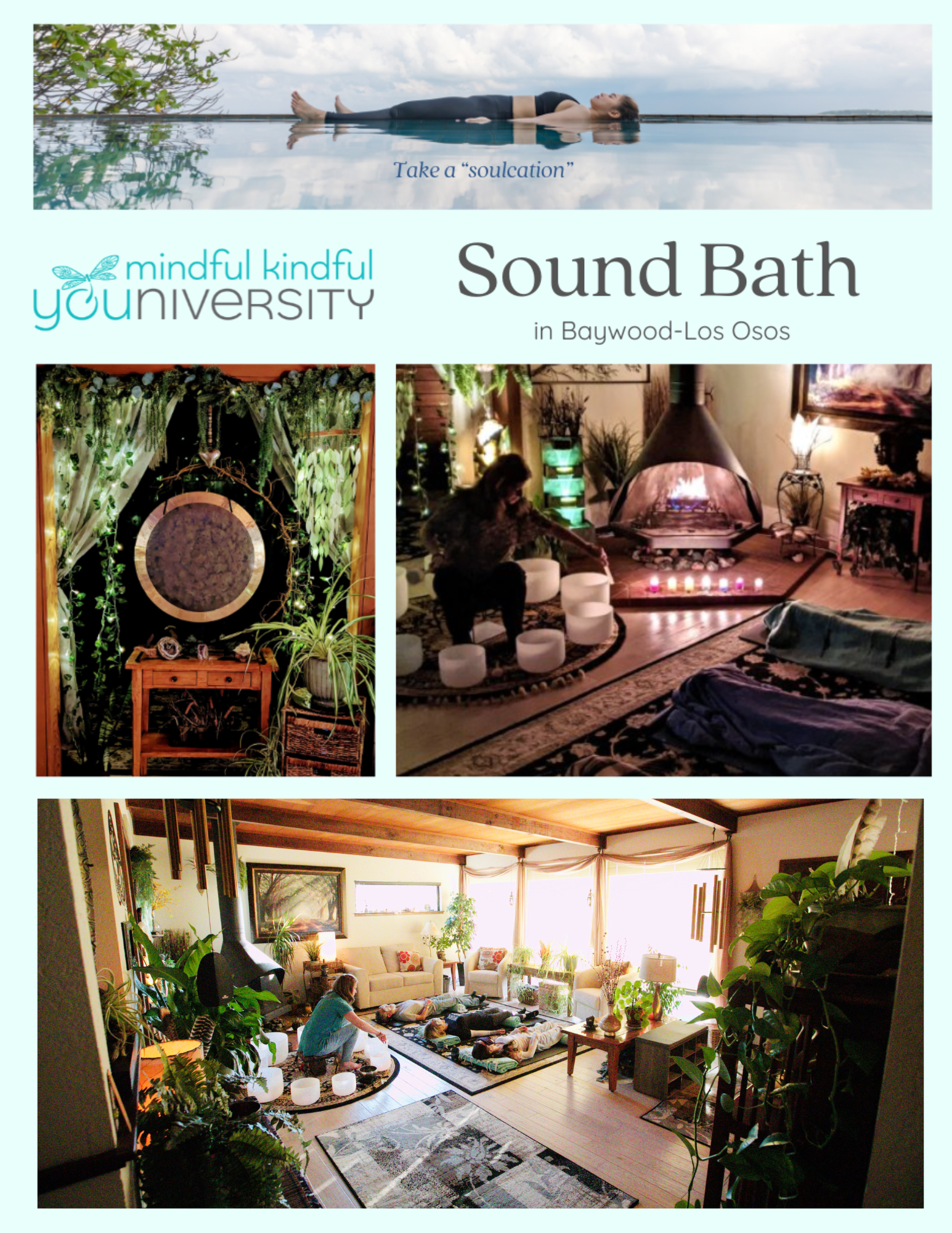 Join me for an intimate "sound bathing" experience in my peaceful home setting in Baywood-Los Osos, CA overlooking Morro Bay.  This is a deeply-immersive, meditative listening experience which intentionally uses sound vibrations to invite gentle, yet powerful, therapeutic and restorative processes to nurture and nourish your mind, body, and soul. There is no actual bath in water, but rather, participants are "bathed" in sound vibrations.
Dates for group sessions are listed below, or contact me for a private session (for individuals or groups).
Luxuriate in the therapeutic healing frequencies and sound waves from crystal "singing" bowls, drum, gong, and other intentional sound instruments combined with guided breathwork and meditations to promote harmony, balance, and well-being. 
Guests typically lay on the floor with blankets and pillows (or may be seated on chairs). The goal of the experience is to invite deep rest, relaxation, and healing ~ think of it as a re-set as you fill your "well" of well-being! No experience is necessary. All you need to do is participate! I'll be your guide.
A variety of sound bathing experiences are offered: Sound Bathing with guided meditation or themes, Sound Bathing followed by Tea Time, or Sound Bathing followed by Creative Arts or Movement. See monthly schedule below.
REGISTER FOR AN EVENT BELOW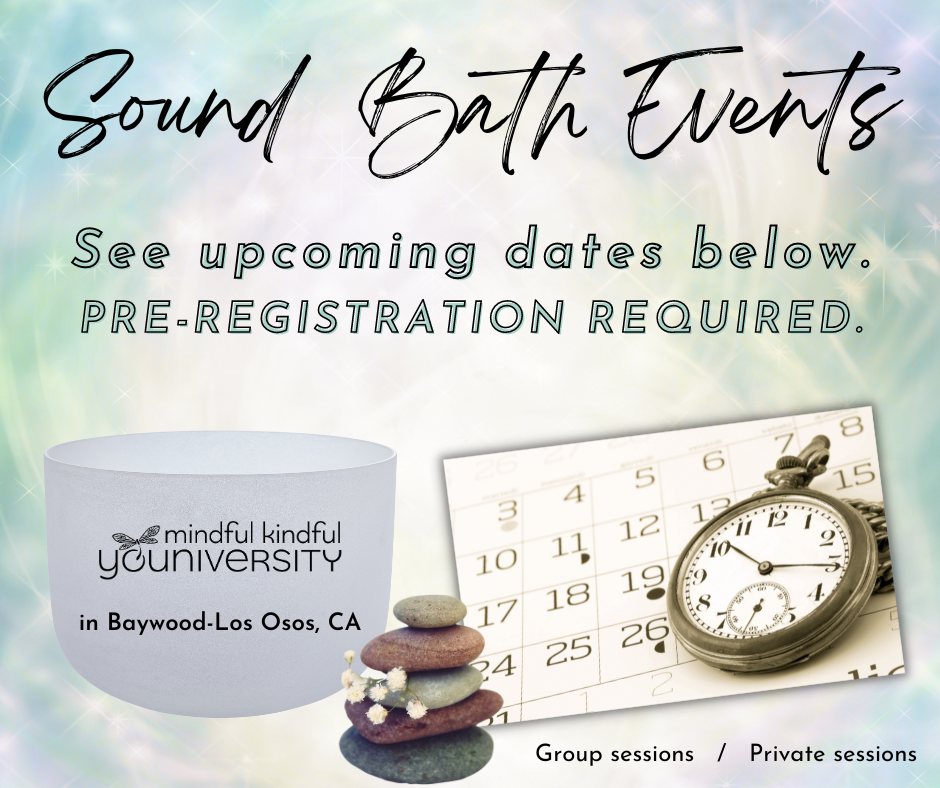 Pre-registration is required – use the  links below. Space is limited. If you don't find a date that works, let's create one that does with a private session for individuals or groups! You can also view events on Calendar.
Dates and times subject to change.
---
**********Please note fees are non-refundable due to the limited spaces available for our sessions.

If you have any symptoms of illness around the time of our event, or if something comes up and you are not able to attend, please let me know you will not be coming. Feel free to gift someone to come in your place (please let me know who will be replacing you). Or if I am able to fill your spot I will offer you credit to be applied towards a future session. Thanks for your understanding.**********
---
♥

More dates for Sound Baths to be announced

♥
---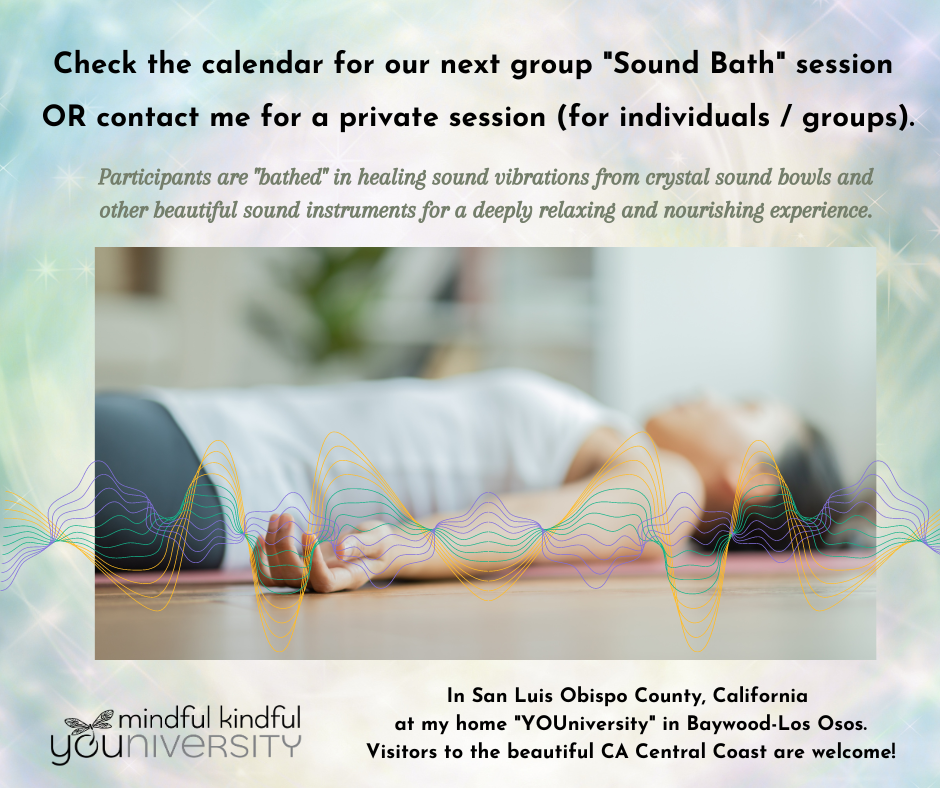 Disclaimer: Sound Bathing/Healing/Therapy is not a substitute for medical care. The information on this web site is for general and educational purposes only. This information is not intended as medical advice and should not be used for medical diagnosis or treatment. Information on this web site should it be considered a replacement for consultation with a healthcare professional. If you have questions or concerns about your health, please contact your healthcare provider.
​
Sound Bathing/Healing/Therapy promotes harmony and balance within, relieving stress and supporting the body's natural ability to heal. Sound Bathing/Healing/Therapy is widely recognized as a valuable and effective complement to conventional medical care
CONTRAINDICATIONS:
Sound healing is contraindicated for the following conditions, so please do not proceed with this appointment if you fall into any of the following groups:
*People with carotid stenosis or carotid atherosclerosis
*People with cardiac pacemakers, artificial heart valves, or cardiac arrhythmias
*People with a stent or shunt
*People with a deep brain stimulation device (DBS)
*People with epilepsy
*People who are post-surgery, prior to suture removal, prior to full healing and closing of surgical scars
*People who are in the first 12 weeks of pregnancy