Request a custom retreat for resilience and well-being to treat your workplace or interest group:
Give the gift well-being and show your team how much you care. Mindful Kindful YOUniversity offers mini-retreats to help your organization to UNPLUG and to benefit from simple, relaxing, and effective mindfulness-based stress-reduction and essential self-care practices.  Re-set, re-balance and re-nourish your nervous system – the foundation for greater resilience, health, and happiness! 
According to the World Health Organization, chronic stress is the health epidemic of the 21st century which affects physical, emotional, and mental health and well-being. And when your employees or co-workers, or you, are impacted, it begins to ripple out and impact our relationships with those around us at work and at home. Toxic stress starts as decreased productivity and creativity, escalating to more serious symptoms like frequent anxiety, dissociation, frustration, and, eventually, burnout. Although we may not be able to eliminate the stressors in our lives, the good news is that we can learn how to change our relationship to them to help minimize the negative effects. Self-care is not selfish, it's essential!
We will have a consultation before the retreat so I can get a sense of what you are looking for. It may include: guided mindfulness relaxation and meditation, movement, subtle yoga, mindful activities, etc., depending on what you are "needing". (I will provide suggestions and do all the planning!)
Location options:
I have provided retreats and workshops for schools, non-profit organizations, and businesses. Let your organization be next!
SAN LUIS OBISPO COUNTY, CA: Provided at your school/organization site or at an outdoor location (parks, beaches, etc) in SLO County, CA.

VIRTUAL via Zoom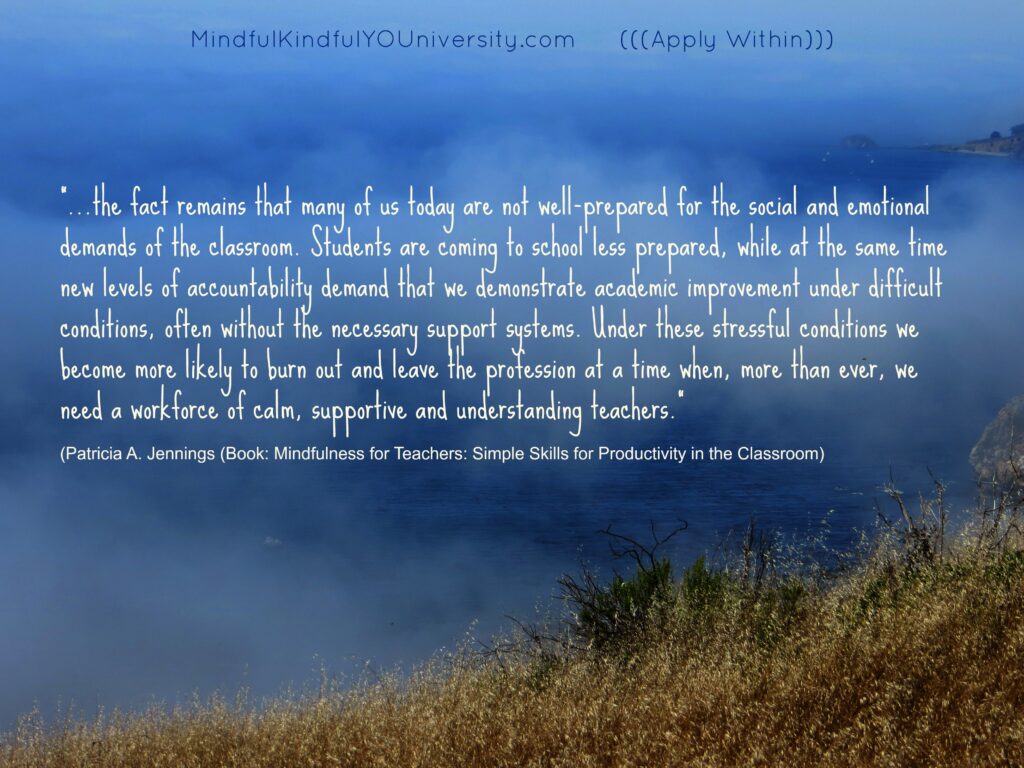 "It's my pleasure to recommend Dee DiGioia. I have experienced Dee and the Mindful Kindful Youniversity classes as both a parent and a professional. I was so impressed by the class given by Dee at my son's elementary school, that I knew there was a place for it in my workplace as well. I contacted Dee about hosting a Professional Workshop on mindfulness at the company I currently lead. It is a very successful software company that runs in a very high- paced and high stress environment. I was sure mindfulness practices could benefit all of our staff. Dee and I worked closely on coming up with a customized workshop that was reflective of our current environment and would be well received by our team. She conducted a one-day seminar titled "How to Break Up with Stress: Mindfulness 101" in two separate groups throughout the day. My staff and I thoroughly enjoyed the workshop and materials presented by Dee. She came very well prepared and had all of the materials and resources available to ensure the class ran smoothly yet also conducive and personal to the philosophies she was speaking on. I truly see that Dee and the practice of teaching mindfulness in the workplace is a valuable asset to absolutely any workplace. I found Dee to be helpful, flexible, relatable, and incredibly passionate and willing to share her knowledge on any level that suits the environment. Beyond that, I was impressed by her knowledge of the research based facts on mindfulness and her Certifications as a Mindfulness & Life-Skills Coach. Her expertise and education in these areas were a huge advantage to our entire office. Dee has clearly put this skillset and passion to work in order to better the health and well-being of all she instructs. I can already attest to the benefits and impacts that these workshops have had on both myself personally and the professional staff I manage." ~Kristen McKiernan President AccuZIP, Inc., Atascadero CA
If you would like to host and/or schedule a custom Staff retreat with me, please reach out to me:

Check our CALENDAR or stay up to date on all of our announcements and updates from the YOUniversity: