Nourished by Nature
Mindfulness Mini-retreats: Into the Forest
San Luis Obispo County, California
Visitors to the beautiful CA Central Coast are welcome!
SAVE THE DATE: Sun, Feb 27, 2022 – details coming soon!

Attend or host our next Nature meet-up into the forest!
Learn about other YOUniversity Retreats

 HERE
Stay up to date on our announcements and updates:
About "Into the Forest"
Join me for a unique mindfulness, meandering, and meditation experience called "Shinrin Yoku" or "forest bathing" ~ attuning deeply with nature through through all of our senses ~ in various locations amongst the trees on the central coast of California, San Luis Obispo County.
SAVE THE DATE: Sun, Feb 27, 2022 – details coming soon!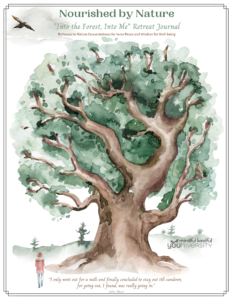 Also coming soon ~ my new "self-retreat" journal and guide for those of you unable to attend my in-person retreats.
Nourished by Nature Self-Retreat
"Into the Forest, Into Me"
Includes journal (pages to print or do online), guided practices, guided relaxation, and more!
https://mindful-kindful-youniversity.teachable.com/p/home
Take this opportunity to be nourished by nature and fill your well of well-being by connecting to nature mindfully! Let Nature be your teacher and resource. I would be honored to be your guide in practicing the essentials of mindfulness, self-care, and nature connectedness. Make this the year your "well" of well-being remains full! 
These are generally for anyone over the age of 18 seeking well being, however mature teens are welcome to share the experience with a parent/guardian. No experience with mindfulness or meditation is necessary. "Beginners" are welcome and encouraged! Simply attend with your curiosity and an open-heart. Leave with rekindled intentions and inspiration to positively support you when responding to life as it is — the good stuff, the tough stuff, all of it — with grace and skill.
What happens when we blend nature with mindfulness?
Magic! Being in nature is not the same as connecting to nature. Experience the magic for yourself through meaningful, purposeful, sensory exploration and activities to engage the mind, the body, and heart to discover deeper connections to your own inner nature, to one another, and find more meaning, enjoyment, and peace in daily life through the "Pathways to Nature Connectedness for Well-being."  The pathways include engaging and connecting with your senses and emotions, receiving and expressing beauty, and reflecting on meaning and compassion. By deepening your connection with nature, you are enhancing your personal well-being and psychological resilience, like tiny seeds planted in the soil awaiting the right conditions to emerge.
A wide array of research studies on being in "green space" (parks, forest areas), in nature, nature connectedness, forest bathing, and mindfulness repeatedly documents positive outcomes to support our psychological and physical well-being: reduces stress, anxiety, depression and anger, while boosting positive emotions, strengthens the immune system, improves sleep, improves cardiovascular health and lowers blood pressure, regulates digestion and hormone levels, improves focus and creativity, and more!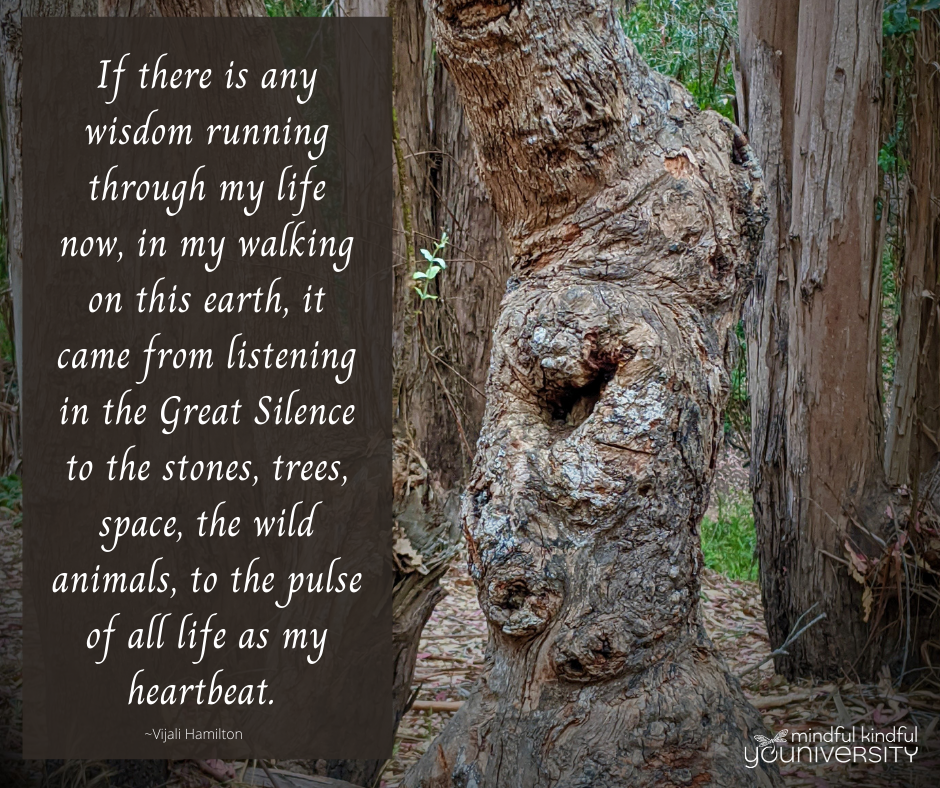 Forest Bathing and the Trees
This summer I finished my studies on "Shinrin Yoku" which is a form of ecotherapy in the forest or in any nature setting. "It is the practice of immersing yourself in nature in a mindful way, using your senses to derive a whole range of benefits for your physical, mental, emotional, and social health. 'Shinrin' means forest and 'Yoku' stands for bathing. The idea took birth in Japan in the 1980's and proved to be a very effective tool to overcome the ill effects of a hectic life and stressful work environment." (from "Healing Forest")
The energy that trees transmit has the ability to affect your mental, emotional, and spiritual bodies of energy.
The energy of trees is slower, deeper, and more concentrated than some other living things. By coming into contact with a tree, you can pick up on its vibrations both consciously and subconsciously. By resonating with the tree's energy, you become more centered and grounded. It can be said that trees give off the energy vibe of safety, security, and stability and have the ability to positively affect your mental, emotional, and spiritual bodies of energy. 
Join me and be prepared to slow yourself wayyyy down in the company of others and the trees, while diving deeply into yourself. Retreat will include deep relaxation through nature connectedness (group and solo time), journaling & eco-art (optional), tea ceremony & light snacks! The energy that trees transmit has the ability to affect your mental, emotional, and spiritual bodies of energy. Experience for yourself how mindfulness and nature can nourish you and provide a foundation for greater resilience, health, and happiness.
Come curious… get connected… leave renourished! Repeat!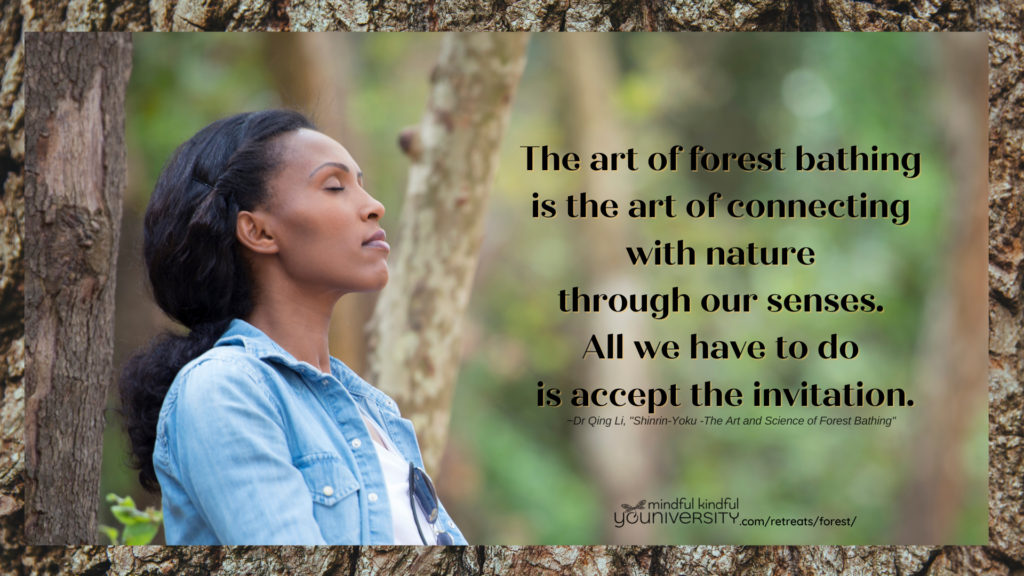 As the pandemic continues to shift and change, many of us continue to face such uncertainty. It is during these times that we are forced to confront ourselves, come together, and discover the depth of resources for well-being. One of my teachers, Oren Jay Sofer says, "What if your deepest teacher were already right here in front of you? What would it take to really hear what life is offering? What if the times we are living in and all that they bring were an essential ingredient in our personal and collective liberation?" I will continue to offer nature-based mindfulness programs in person (and online) for you and for youth to help with the discovery that everything you need to learn is right here in front of you. Let nature be your teacher and let me be your guide!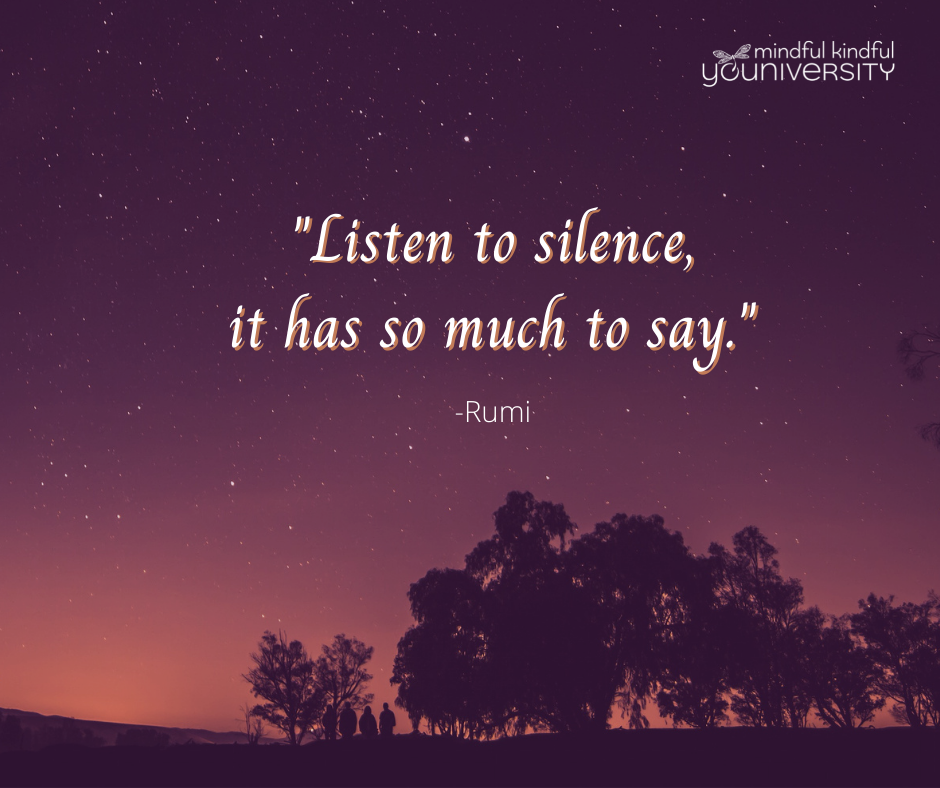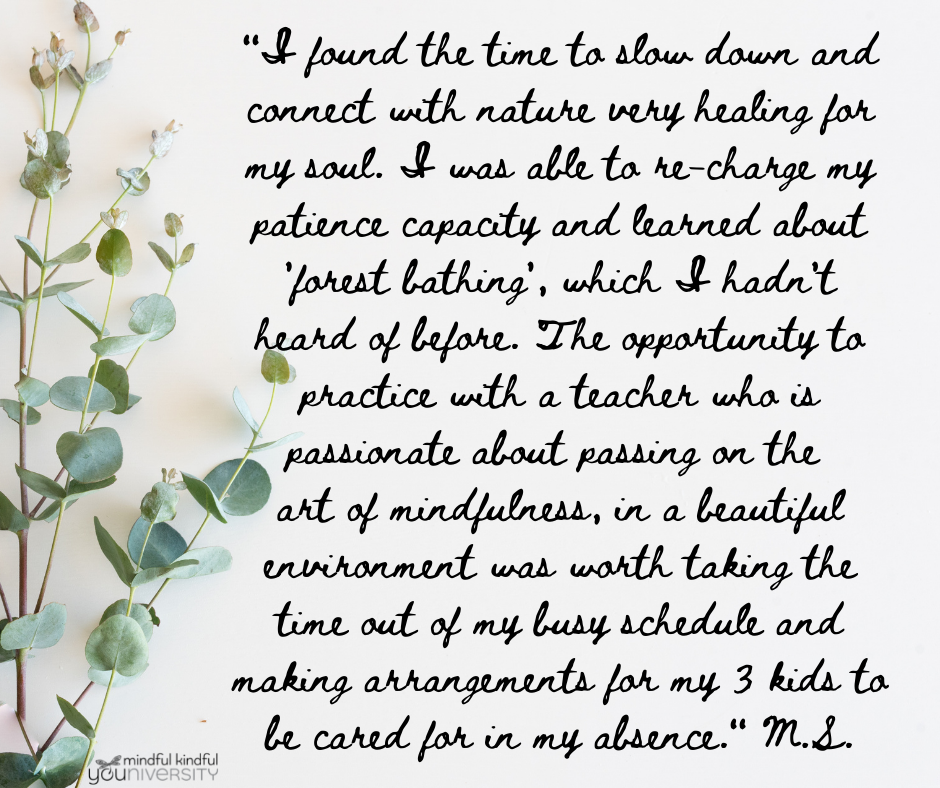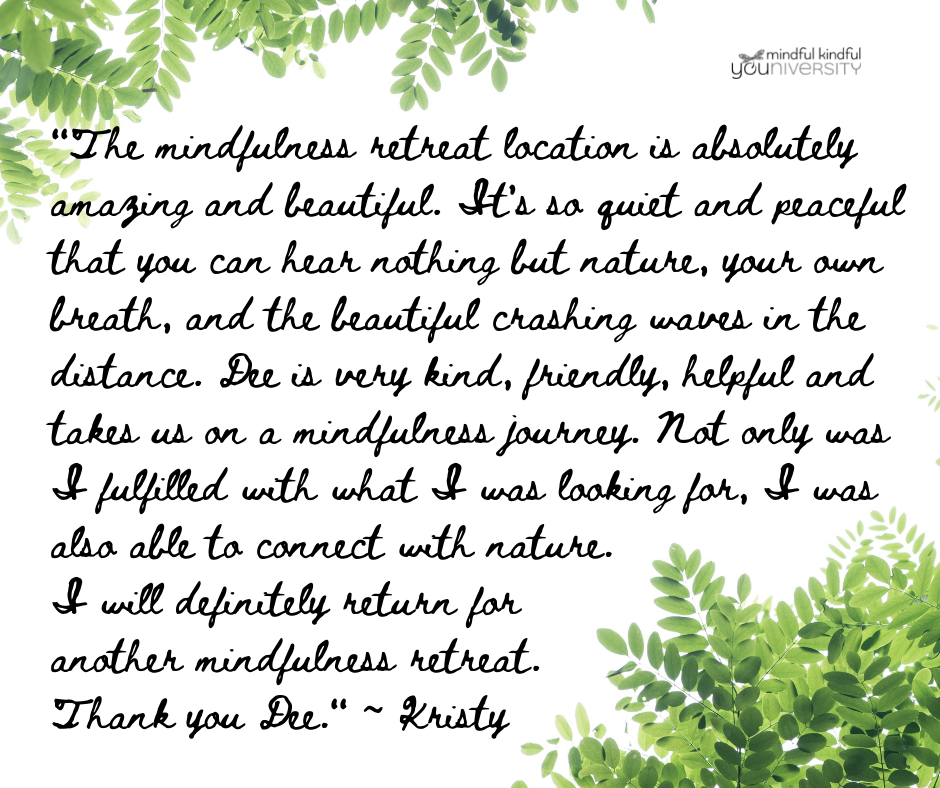 If you have questions or would like to suggest locations for a "Nourished by Nature" meet, please reach out to me!
Attend or host our next Nature meet-up in the forest!
Learn about other YOUniversity Retreats

 HERE
Stay up to date on our announcements and updates