Research and Benefits
on Mindfulness for Youth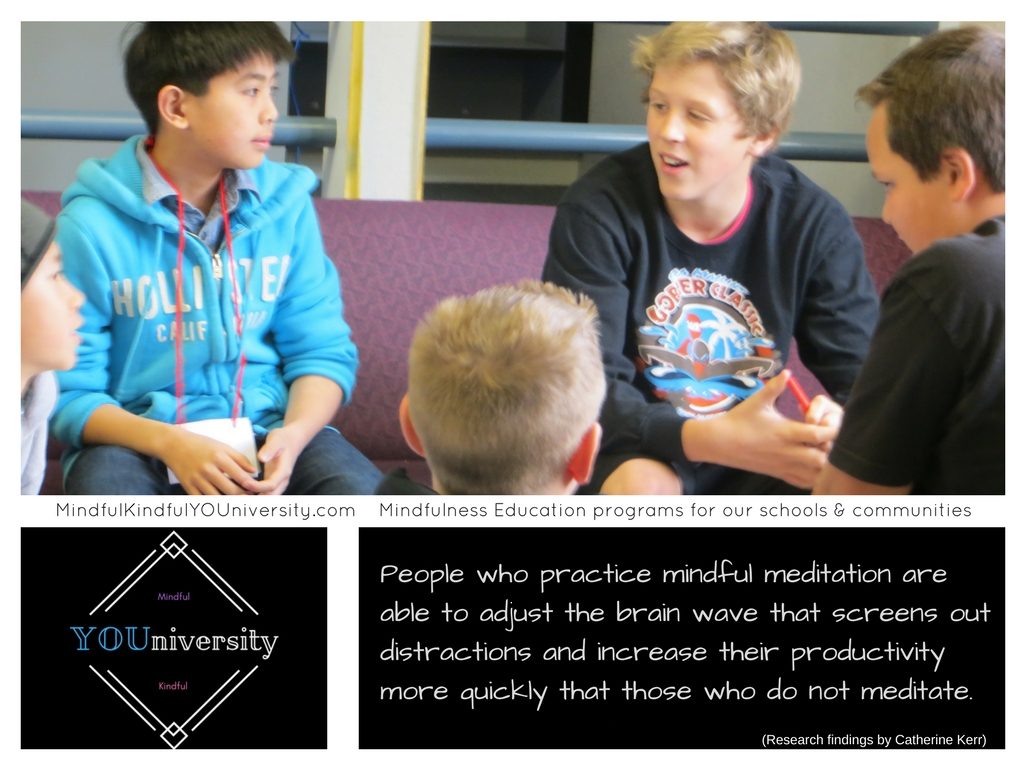 "Research has proven that mindfulness training integrates the brain and strengthens the important executive functions that support emotional and social intelligence as well as academic success. Offering mindfulness (training) for (youth) is a natural way to set them on the right course not only now, but for the rest of their lives!" source ~Daniel J. Siegel, M.D. & Clinical Professor, Author of Mindsight and Brainstorm: The Power and Purpose of the Teenage Brain
The science and research is confirming
the powerful and transformational benefits of
mindfulness, yoga, and social-emotional learning for youth!
Lists below derived from the sources near the bottom of this page.
IMPROVES / INCREASES: 
emotional regulation

 ~ self-managing emotions and behaviors 

(Mindfulness creates changes in the brain that correspond to less reactivity, and better ability to engage in tasks even when emotions are activated.)

skillful responses to difficult emotions including anger management (Observing our emotions helps us recognize when they occur, to see their transient nature, and to change how we respond to them.) 
attention & on-task behavior
focus and concentration
executive functioning
academic performance
cognitive flexibility
impulse control and delay of gratification
positive behavior both in the classroom and outside of school ~ unprompted use of techniques to deal with anger, aggression and the need to regulate
self awareness
development of natural conflict resolution skills
adaptability (Becoming aware of our patterns enables us to gradually change habitual behaviors wisely.)
compassion
sense of calm and peace (Breathing and other mindfulness practices relax the body and mind, giving access to peace independent of external circumstances.)
self awareness (Awareness of our own thoughts, emotions, and senses grows our understanding of what other people are experiencing.)
self-compassion
self-acceptance, self-esteem
pro-social skills, social awareness (Increased empathy, care, and understanding of others)

resilience

(

Seeing things objectively reduces the amount of narrative we add to the world's natural ups and downs, giving us greater balance.)
feelings of community
smoother transitions
mental health
positive moods
physical health, including motor skills development
school performance (Positive effects on student grades and academic performance.)
enhance sleep quality
immune system

Mindfulness changes the brain! 
Amygdala (Aroused when detecting and reacting to emotions, especially difficult or strong emotions such as fear. This part of the brain is less activated and has less gray matter density following mindfulness training.)

Hippocampus 

(Critical to learning and memory, and helps regulate the amygdala. This part of the brain is more active

 and has more gray matter density following mindfulness training

.

)

Prefrontal Cortex (The part of the brain most associated with maturity, including regulating emotions and behaviors and making wise decisions. This part of the brain is more activated following mindfulness training.)  
REDUCES:
stress and anxiety
test anxiety
depression
symptoms of mental health
posttraumatic symptoms
ADHD behaviors—specifically hyperactivity and impulsivity
aggression
behavioral referrals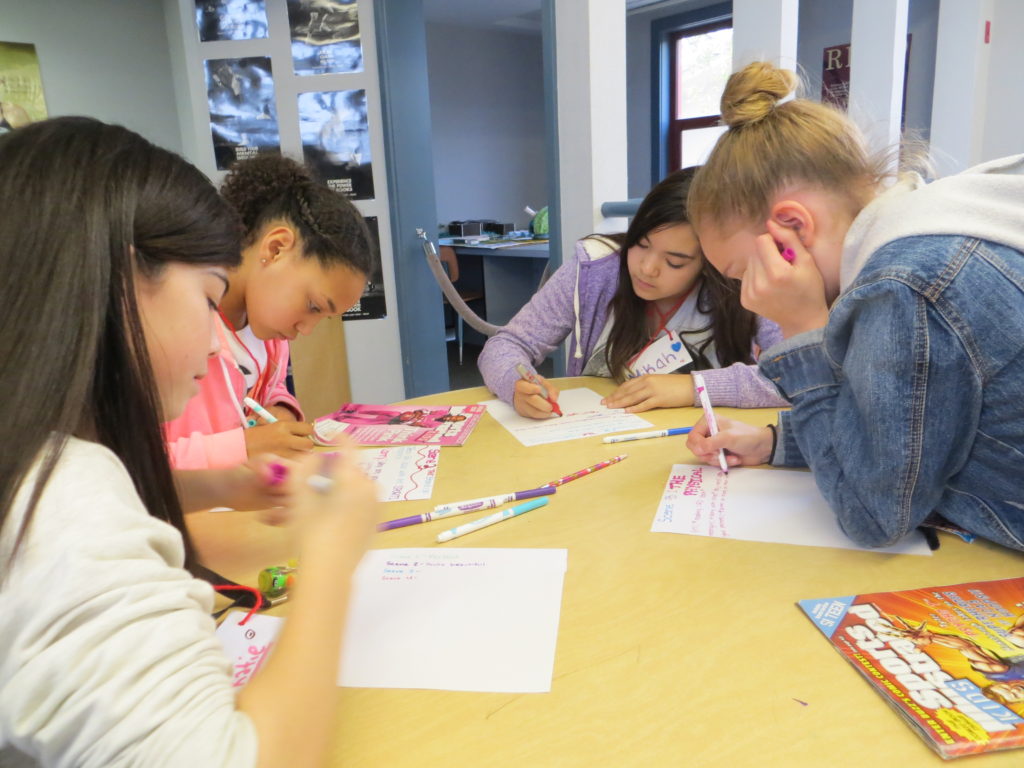 The research on neuroscience has the potential to revolutionize education while it validates the importance of whole-child education. Mindfulness is foundational for education because it contributes to optimal conditions for learning and for teaching!
Mindfulness, yoga, and social emotional learning programs will provide the learning and practice opportunities to cultivate self-awareness, self-management, social awareness, relationship skills, and responsible decision-making which are the five interrelated sets of cognitive, affective and behavioral competencies identified by The Collaborative for Academic, Social, and Emotional Learning (CASEL).
Research also shows that people who have high Emotional Intelligence skills are the ones who are happier and more successful in all areas of life because they will be better equipped to handle and overcome any challenges that come their way by responding to situations from a positive, calmer, more centered space. 
>>> NEW! Mindful Schools Research Quarterly – Oct 2018 <<<
These skills can't help but impact every area of life and in every growth stage from youth to adult!!!
MASTER THE SKILLS OF EMOTIONAL, SOCIAL, AND PHYSICAL WELL-BEING!
Mindful Kindful YOUniversity was founded to address the challenges youth face in school and in life, which interfere with learning, relationships, and mental well-being. MK YOU equips and teaches children, teens, and adults HOW to cultivate the inner resources, or "superpowers" for reducing stress and experiencing more balance, resilience, and over-all well-being by integrating evidence-based strategies and practices of mindfulness, movement & yoga, and social emotional learning to develop the essential life skills of emotional intelligence, or "Sm'Heart skills" — the essential education for responding more skillfully to life in the 21st Century!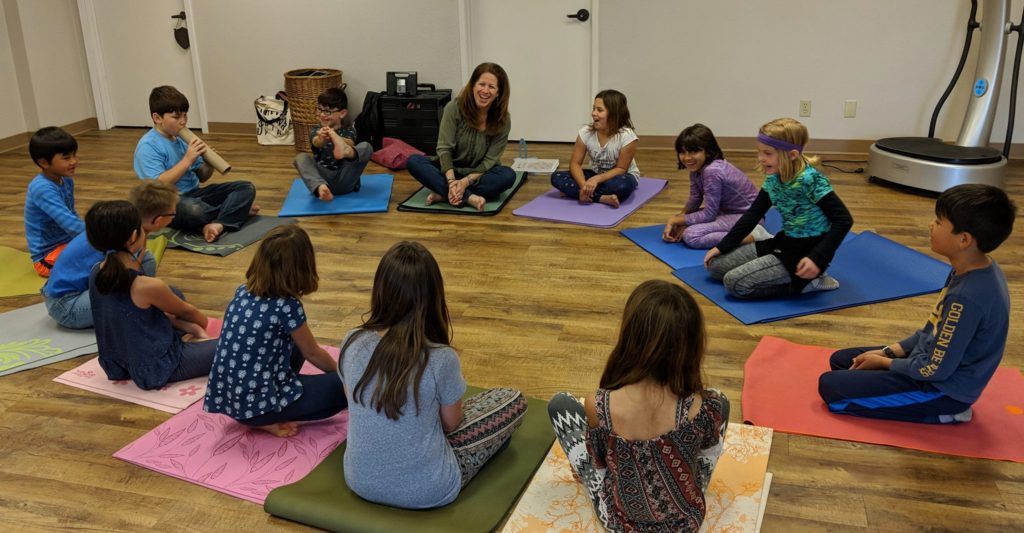 ~~~~~~~~~~~~~~~~~~~~~~~~~~~~~
MORE RESOURCES:
Some of the best Articles & Videos!
~~~~~~~~~~~~~~~~~~~~~~~~~~~~~
MORE FROM MINDFUL KINDFUL YOUNIVERSITY:
~~~~~~~~~~~~~~~~~~~~~~~~~~~~~
The link above summarizes research on the benefits of mindfulness, including neuroscience, the latest scientific studies, and specific benefits for educators and students. It  also describes research studies on the Mindful Schools curriculum and benefits the course graduates have seen in themselves and the students they serve.
I was trained and certified through Mindful Schools. MK YOU includes the evidence based Mindful Schools curriculum in our programs with children and teens.
The link above is an annotated bibliography of studies of mindfulness in education from the Greater Good Science Center (2014). 
Although research on mindfulness is still in early stages, studies show that mindfulness holds promise for positive effects on student health, well-being, social skills, and academic performance; read how mindfulness practices may also reduce stress and burnout for teachers and administrators.
This page summarizes research on the benefits of yoga, mindfulness and social/emotional learning including neuroscience, the latest scientific studies, and specific benefits for educators and students. It also describes research studies on the Yoga Calm curriculum.
I was trained through Yoga Calm. MK YOU includes the evidence based Yoga Calm curriculum in our programs with youth.
NOTE:

MK YOU
 programs can result in a number of benefits for participants, however,

MK YOU 

does not promise any particular results and will not be held responsible for the lack of such results.  Progress depends on many factors, including consistent attendance, motivation, effort, application (practicing the new learnings and skills outside of the MK YOU sessions), and other life circumstances. Positive change may not be apparent immediately after each session but should be noticed over time.
~~~~~~~~~~~~~~~~~~~~~~~~~~~~~
You may also be interested in:
of Adult Mindfulness & Meditation
~~~~~~~~~~~~~~~~~~~~~~~~~~~~~