Research and Benefits of Mindfulness
"Research has proven that mindfulness training integrates the brain and strengthens the important executive functions that support emotional and social intelligence as well as academic success. Offering mindfulness (training) for (youth) is a natural way to set them on the right course not only now, but for the rest of their lives!"
source ~Daniel J. Siegel, M.D. & Clinical Professor, Author of Mindsight and Brainstorm: The Power and Purpose of the Teenage Brain
The research on mindfulness is proliferating and for good reason!
"Solid scientific evidence suggests that mindfulness interventions improve attention, self-control, emotional resilience, recovery from addiction, memory and immune response." Here's a summary of benefits particularly relevant to education provided by Mindful Schools and a variety of other sources: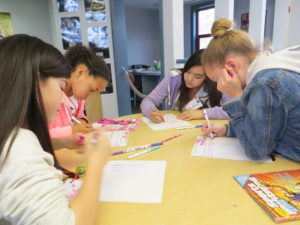 Attention ~ Better focus and concentration. Strengthens our "mental muscle" for bringing focus back where we want it, when we want it. Increased executive functioning.
Emotional Regulation ~ Improved impulse control. Increased self awareness. Skillful responses to difficult emotions including anger management. Observing our emotions helps us recognize when they occur, to see their transient nature, and to change how we respond to them. Development of natural conflict resolution skills. Decreased depression.
Adaptability ~ Becoming aware of our patterns enables us to gradually change habitual behaviors wisely.
Compassion ~ Increased empathy, care, and understanding of others. Awareness of our own thoughts, emotions, and senses grows our understanding of what other people are experiencing. Increased self-compassion, self-acceptance, self-esteem.
Calming ~ Increased sense of calm. Decreased stress and anxiety. Breathing and other mindfulness practices relax the body and mind, giving access to peace independent of external circumstances. Decreased ADHD behaviors—specifically hyperactivity and impulsivity
Resilience ~ Seeing things objectively reduces the amount of narrative we add to the world's natural ups and downs, giving us greater balance.
Mindfulness is a foundation for education because it contributes to optimal conditions for learning and teaching.
Mindful Schools summarizes research on the benefits of mindfulness, including neuroscience -how mindfulness changes the brain in the amygdala, hippocampus, and prefrontal cortex, the latest scientific studies, and specific benefits for educators and students – cognitive outcomes, social-emotional skills, well-being.
For a summary of this research go to Mindful Schools Research.
The research on neuroscience has the potential to revolutionize education while it validates the importance of whole-child education. Mindfulness programs in school will provide the learning and practice opportunities throughout the day to cultivate self-awareness, self-management, social awareness, relationship skills, and responsible decision-making which are the five interrelated sets of cognitive, affective and behavioral competencies identified by The Collaborative for Academic, Social, and Emotional Learning (CASEL). Research also shows that people who have high Emotional Intelligence (EQ) skills are the ones who are happier and more successful in all areas of life because they will be better equipped to handle and overcome any challenges that come their way by responding to situations from a positive, calmer, more centered space. These skills can't help but impact every area of life and in every growth stage of life from youth to adult.  
Are you in San Luis Obispo County or Northern Santa Barbara County? Join or host MKYOU classes or trainings for youth, parents, or educators. PILOT SCHOOLS WANTED: Elementary, Middle, High School, College. Contact Dee DiGioia to get started or for more information.
~~~~~~~~~~~~~~~~~~~~~~~~~~~~~~~~~~~~~~~~~~~~~~~~~~~~~
Additional resources on research and benefits of mindfulness as related to education:
American Mindfulness Research Association (AMRA) (website)
Harvard neuroscientist: Meditation not only reduces stress, here's how it changes your brain 
Low-Income Schools See Big Benefits in Teaching Mindfulness
Daily Meditation: A Bold Approach to Reducing Student Stress (Edutopia)
Effects of Mindful Awareness Practices on Executive Functions in Elementary School Children 
Meditation appears to produce enduring changes in emotional processing in the brain 
Meditation transforms roughest San Francisco schools 
Mindfulness Exercises Improve Kids' Math Scores 
Mindfulness in Education Research Highlights 
Mindfulness Programs In Schools Reduce Symptoms Of Depression Among Adolescents: Study 
Mindful Nation UK Report on Mental Health in Public Policy 
Teen Brain Benefits from Mindfulness Training 
Teaching meditation to kids in Chicago swiftly reduced crime and dropout rates 
This Practice May Boost Intelligence And Lower Stress By Re-Wiring Your Brain 
What Happens to the Brain When You Meditate (And How it Benefits You) 
When Mindfulness Meets the Classroom 
The Limitations of Teaching 'Grit' in the Classroom