NEW! Free Sampler Module
What's inside our "Mindful Explorers" learning modules?
Now you can take a peek with this "sampler" module!
Check out our Sampler Module which provides samples from a variety of the learning modules from our "Mindful Explorers" program to help give you a sense of what it would be like to have access to this program or curriculum. This module is not a complete representation of a full module but will provide a window into the possibilities for you as a member!
Our program is geared towards elementary school-aged children – although it can be adapted up or down.
This is especially valuable for families with mixed ages at home or for classrooms. This online program is accessible to anyone, anywhere with internet access.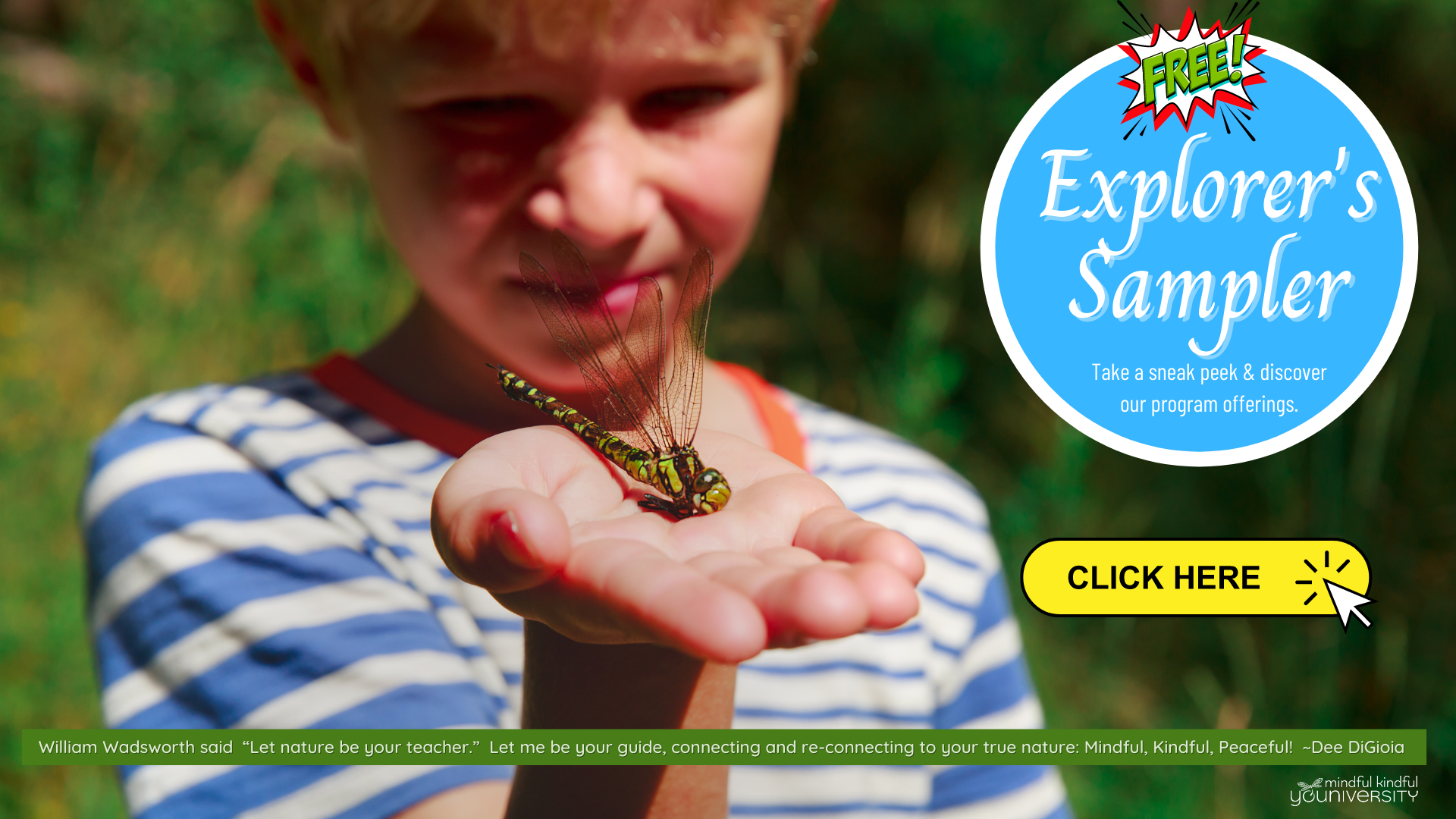 Our learning modules for Mindful Explorers are located on a virtual platform called Member Vault.
What's inside our modules? See video below!
Within the Member Vault are self-paced learning modules:
A module is like a box full of goodies including fun, educational, bite-sized pre-recorded videos – each under 10 minutes – of a main lesson, stories, relaxation practices, creative art, and movement or outdoor adventures that the whole family can enjoy together!
The recordings will be presented as though I am sitting there talking to your child to make it feel personal and to help encourage the sense of familiarity and connectedness as an anchor.
Within each module, there are also reflection questions, suggested extended activities, downloadable/printable practice cards and materials to print to integrate and process lessons and practices at a deeper level as you can take your practices and projects offline and into life.

NO-PREP:
You don't have to do any prepping – no cutting out, no assembling or making anything before it's ready to use –  it's all ready to go other than gathering materials for an optional, occasional art activity, or other than printing out optional materials provided. It's all ready to go since everything is recorded and printables offered!
SELF-PACED:
This is a self-paced program to learn, practice, and grow skillfully. Go at your own pace! Learn as you go. If life gets busy, that's okay – access the modules when it fits in with your life. You get to decide how much you want to access at a time that will be right for you or your child.
Spend as little as 10 – 20 minutes ONline.

Take one piece at a time and plant the seed. 10-20 minutes. That's it!

Then take your practices and projects OFFline, and into life, with an emphasis on getting out in nature. Integrate what you're learning and apply it to everyday life – that's where the rela learning takes place!

There are currently 10 modules.

It is suggested to focus on one module per month. 

You don't need to get online everyday but I do recommend setting aside some routine times for the Mindful Awareness Practices on a regular basis to grow the mindful muscles and healthy habits of mind – heart – body.
Members have access to all learning modules released to date! New modules and content will be added. The past, present, and future content is yours to access for as long as you remain a member.
Explorers can do these lessons independently, but they will get far more out of it when a grown-up does it with them by having meaningful conversations, supporting one another! Why not grow skillfully together!?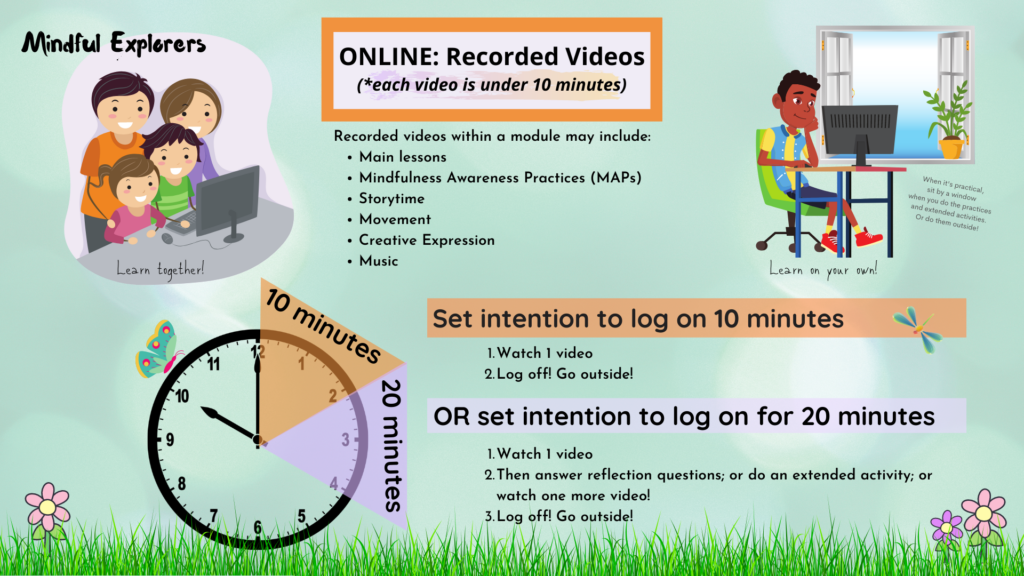 NATURE/SOCIAL-EMOTIONAL LEARNING THEMES:
Each of the themes draw from the mysteries, metaphors, and magic of nature to help learn about ourselves, as well as our relationships to others and the world around us. We practice the skills to be mindful, kindful, and peaceful. I like to say the style of my video lessons is a little bit "David Attenborough meets Mr. Rogers"! Your child, and you, will learn some things about nature, and about your own true nature!
"Summer Sensations" Module (Emotions Are Like the Weather / Taking Care of Anger) 
"Grounding" Module (Taking Care of Worries)
"Easy Breezy" Module (Taking Care of Sadness)
"Flow" Module (Taking Care of Stress & Growing Gr'Attitude)
"Fire" Module (Emotional Wildfire + Seeds of Peace)
"Rainbows" Module (Connecting to Love)
"Mountains of Emotions" Module (Mapping our Way to Happiness)
"The Webs of Life" Module (Connections to Nature and One Another)
"Footprints/Heartprints" Module (Leaving the best of you behind)
"Inner Animals" Module (Compassion, Courage, and Comfort)

More modules coming! 

COMPASSIONATE STEWARDS:
Through our approach to "Pathways to Nature Connectedness", we also hope our children will become inspired stewards and caretakers for protecting Mother Earth, including wildlife. There's no wellbeing without nature's wellbeing. It's a reciprocal relationship and web. All of our themes draw from the mysteries, metaphors, and magic of nature to help learn about the nature of ourselves, as well as our connections and relationships to others and the world around us. We practice the skills to be mindful, kindful, and peaceful.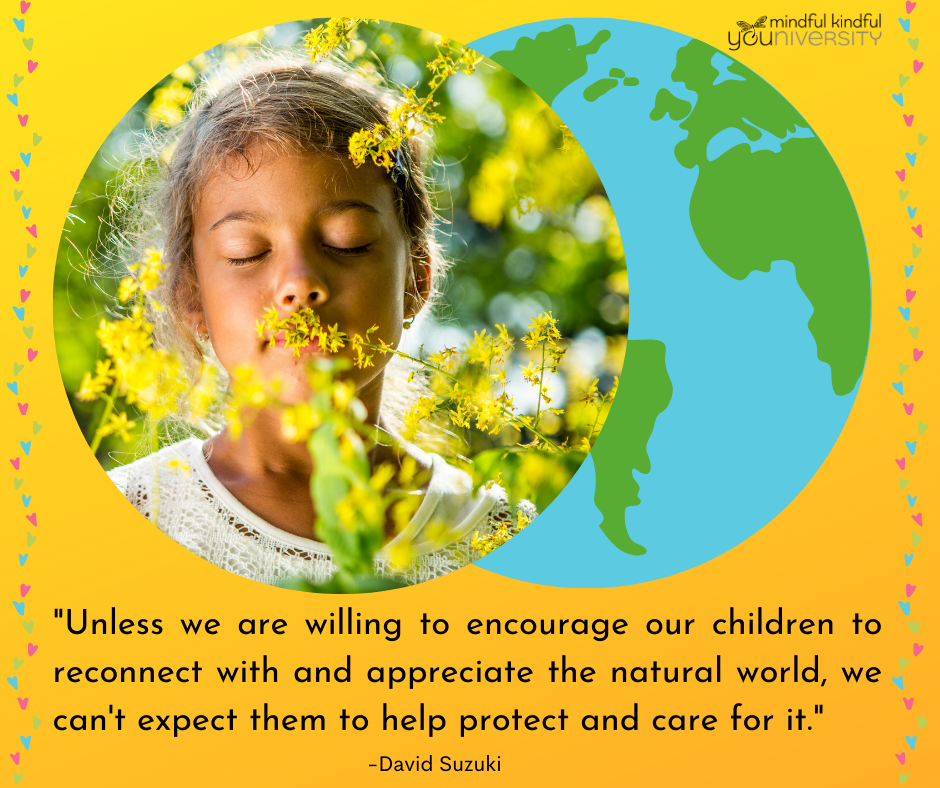 Questions?