NEW! Free Sampler Module
What's inside our "Mindful Explorers" learning modules?
Now you can take a peek with this "sampler" module!
Check out our Sampler Module which provides samples from a variety of the learning modules from our "Mindful Explorers" program to help give you a sense of what it would be like to have access to this program or curriculum. This module is not a complete representation of a full module but will provide a window into the possibilities for you as a member!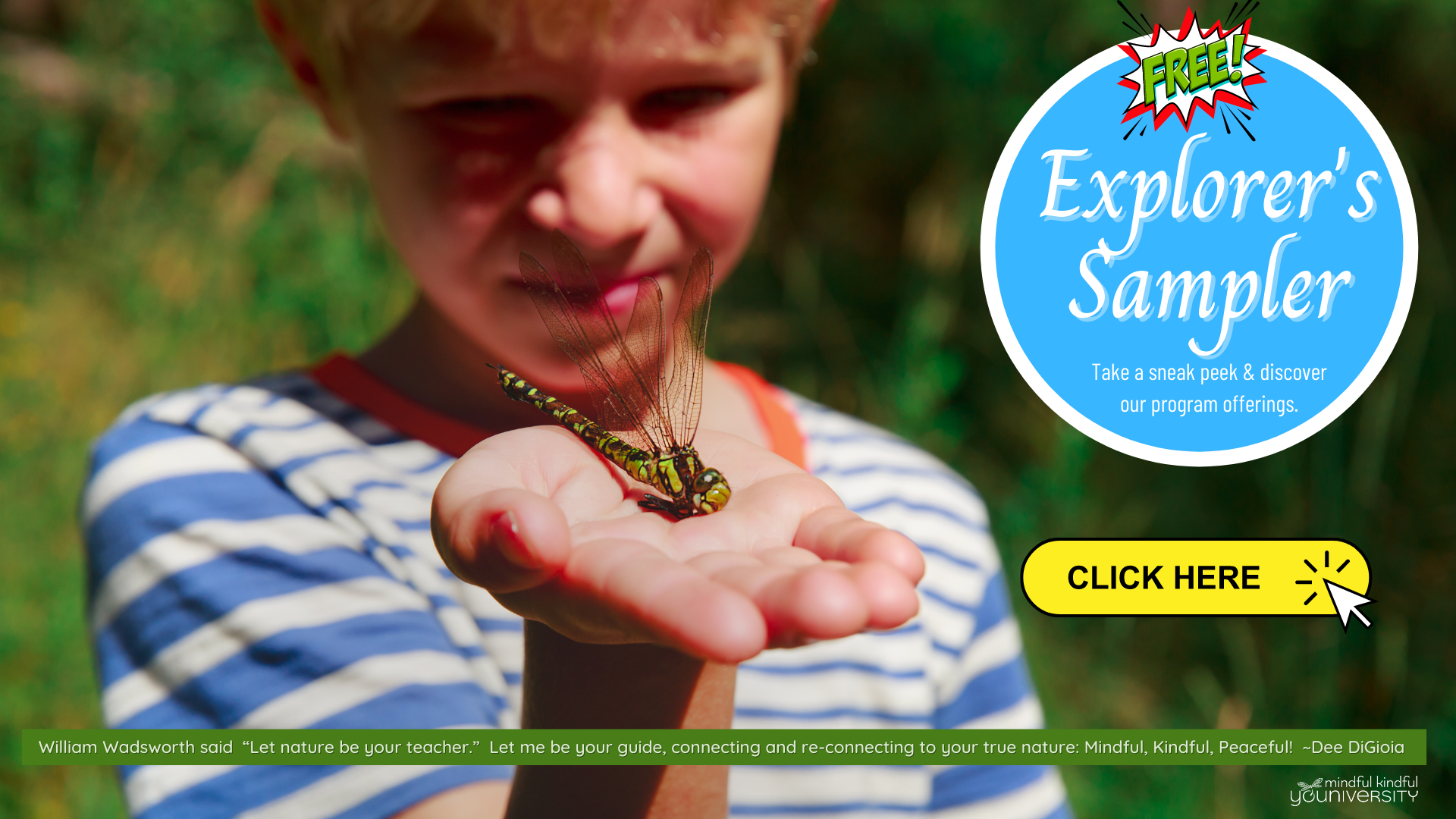 What's inside our modules? See video below!
Our learning modules for Mindful Explorers are located on a virtual platform called Member Vault.
Members have access to all learning modules released to date! As of March 2021 there are 10 modules ~ with more in the making!
The program consists of a series of self-paced learning modules. Each module has a different nature and social-emotional learning theme. A module is like a box full of goodies including a main lesson and extended activities to explore ~ stories, relaxation practices, creative art, and movement or outdoor adventures that the whole family can enjoy together!
There's no prep for you – it's ready to go!
There are also reflection questions, downloadable cards, or other materials to print so you can take your practices and projects offline. And all of our themes draw from the mysteries, metaphors, and magic of nature to help learn about ourselves, as well as our relationships to others and the world around us. We practice the skills to be mindful, kindful, and peaceful.
 I like to say the style of my video lessons is a little bit "David Attenborough meets Mr. Rogers"! Your child, and you, will learn some things about nature, and about your own true nature!
"Summer Sensations" Module (Emotions Are Like the Weather / Taking Care of Anger) 
"Grounding" Module (Taking Care of Worries)
"Easy Breezy" Module (Taking Care of Sadness)
"Flow" Module (Taking Care of Stress & Growing Gr'Attitude)
"Fire" Module (Emotional Wildfire + Seeds of Peace)
"Rainbows" Module (Connecting to Love)
"Mountains of Emotions" Module (Mapping our Way to Happiness)
"The Webs of Life" Module (Connections to Nature and One Another)
"Footprints/Heartprints" Module (Leaving the best of you behind)
"Inner Animals" Module (Compassion, Courage, and Comfort)

More modules coming! 

Content for Mindful Explorers, will be much like what we do in our Mindful Kindful YOUniversity school programs and community programs in San Luis Obispo County, CA, however, being online we can go more in depth!
This online program is accessible to anyone, anywhere with internet access.
It is a self-paced program and you get to decide how much you want to access at a time that will be right for you or your child.
Spend as little as 10 minutes online and then take your practices and projects offline, and into life, with an emphasis on getting out in nature.
Each module contains multiple videos (lessons, stories grounding practices, activities, etc).
The past, present, and future content is yours to access for as long as you remain a member.

No prep is needed

for you (other than gathering materials for an occasional art activity).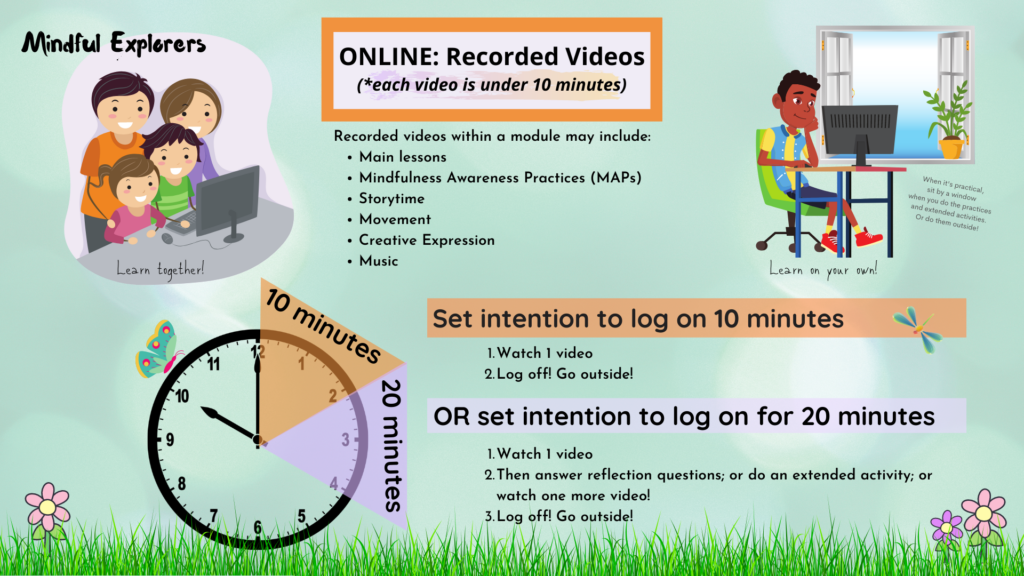 You only need to be ONline 10 – 20 minutes any time you choose to learn, practice and grow skillfully with the Mindful Explorers program.
It doesn't have to be everyday. You could actually get through a whole module in one sitting if you carved out 45-60 minutes
but that's not what I recommend. Take one piece at a time and plant the seed. 10-20 minutes. That's it!
Questions?